Vauxhall Corsa-e vs Renault ZOE: verdict and specifications
The Renault ZOE outshines the Vauxhall Corsa-e in several key areas, but it's a fairly close result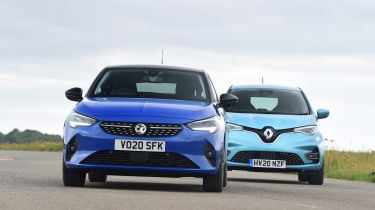 Both of these electric superminis make a lot of sense for a lot of people. They're not meant for long trips, but if you can get over that and realise that most journeys are short, especially if you live in a city, then their ranges of up to 200 miles are plenty.
The ZOE makes just a bit more sense overall, though. It's more comfortable than the Corsa-e while also being more practical, and the interior is a nicer place to spend time. Yet the Corsa-e's faster rapid charging capability and punchy motor mean it still has lots of appeal.
1st: Renault ZOE
The ZOE is punchy despite being less powerful than its rival, and it also has a longer range than the Corsa-e. The 50kW rapid charging compatibility is enough for most users, too. The Renault is also more spacious than the Vauxhall, with a better-quality interior, a longer warranty and slightly better infotainment – so it's the winner here and one of the best EV superminis around.
2nd: Vauxhall Corsa-e
The Vauxhall's lower-quality cabin, smaller boot and more cramped rear seats let it down somewhat, but in most other areas it's good. The 100kW rapid charging is a big bonus as it'll reduce time spent waiting around, and it has enough range for daily use. It's agile, nippy and quite fun to drive as well, so it's worth a look if you're after a small EV.
Specifications
|       |    Renault ZOE i GT Line R135 ZE 50 Rapid Charge     |    Vauxhall Corsa-e Elite Nav 7.4kW    |
| --- | --- | --- |
| On-the-road price | £30,995 | £30,310 |
| Motor | Single electric motor | Single electric motor |
| Transmission | Single-speed auto, front-wheel drive | Single-speed auto, front-wheel drive |
| Battery capacity (total / usable) | 55 / 52 kWh | 50 / 45 kWh |
| Power / torque | 133bhp / 245Nm | 134bhp / 260Nm |
| 0-30 / 0-62mph | 3.6 / 9.5 sec | 2.8 / 8.1 secs |
| Top speed | 87mph | 93mph |
| 100% charge cost at 14p/kWh | £7.92 | £7.20 |
| Charging capability | 2.3 / 7.4 / 22 / 50kW | 7.4 / 22 / 50 / 100kW |
| Charge time | 34h 30min / 9h 25min / 3h / 1h 10min | 7h 30min / 5h / 45min / 30min |
| Official electric range | 238 miles | 209 miles |
| On-test electric range | 203 miles | 171 miles |
| Road tax / BiK rate | £0 / 0% | £0 / 0% |
| Length / height / width / wheelbase | 4,087 / 1,562 / 1,787mm / 2,588mm | 4,060 / 1,433 / 1,765mm / 2,538mm |
| Boot capacity (seats up/down) | 338 / 1,225 litres | 267 / 1,076 litres |