BMW X5 hybrid vs Porsche Cayenne hybrid vs Jaguar I-Pace: running costs and warranty
While the plug-in hybrids could prove cheap to run for certain buyers, the pure-electric Jaguar I-Pace is hard to beat on this front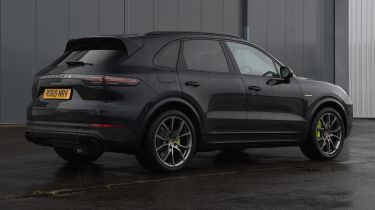 This is where a gulf opens up between the two plug-in hybrid cars on test and their fully electric rival. While we've touched on fuel economy and how the Cayenne and X5 will drink petrol unless their batteries are kept topped up, it's clear that from an everyday costs point of view the I-Pace will come out on top.
Its relative lack of overall range is countered by much faster charging and, as the UK's charging infrastructure continues to develop, longer journeys in an electric car won't require quite the same amount of planning as some might fear. 
According to our test results, fuel for the Cayenne will cost £2,703 over 12,000 miles, while the X5 will set you back £2,772 over the same period. In comparison, the I-Pace costs just £12 per 'fill-up', equating to around £624 of electricity over that time. We've covered the pros and cons of plug-in hybrid drivetrains in the range, charging and fuel economy section of this test – but it's hard to ignore the big savings the I-Pace offers. 
The I-Pace is also streets ahead when it comes to tax of both the VED and company-car variety. In the 2020/21 financial year you'll pay no first-year road tax or company-car tax; the plug-in hybrids have a low first-year VED payment, but higher-rate company-car users (those most likely to run a car such as these) will have to stump up £1,637 for the X5 or a particularly chunky £5,468 for the Porsche, due to it falling into the 20% BiK bracket. 
While none of these cars is likely to present reliability issues, it's worth noting that the I-Pace has relatively few moving parts, and certainly doesn't have a petrol engine to service; still, it's covered by a three-year/unlimited-mileage warranty (plus an eight-year/100,000-mile battery warranty) and has two-year/21,000-mile service intervals.
The Porsche and BMW both get the same generous warranty coverage as the I-Pace and with broadly similar servicing schedules – but there's more scope for the need for replacement engine parts further down the line. So, for overall low running costs, the I-Pace is a no-brainer; if you need a plug-in hybrid, the X5 is the more sensible choice.