BMW X5 hybrid vs Porsche Cayenne hybrid vs Jaguar I-Pace: range, charging and fuel economy
The BMW is the more efficient plug-in hybrid on this test, but the Jaguar trumps it and the Porsche with its low running costs and fast charging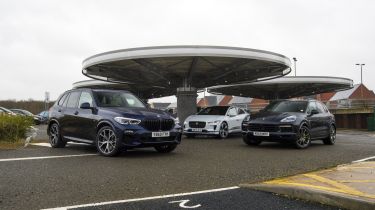 When considering which of these three cars is best – two plug-in hybrids and an electric vehicle – it makes sense to consider their average typical use. While some owners will regularly take on longer trips up and down the motorway, this sort of use is still best undertaken by a diesel model: better fuel economy and the best possible range on a tank of fuel are likely. 
However, if you're the sort of driver who mostly does shorter trips with a low number of longer ones, a plug-in hybrid is a really strong choice. The flexibility of fuel-free pure-electric running around town could cut running costs for many owners, provided they can keep their car's battery topped up. It's a good mid-point on the way to full electric-car ownership – something that the Jaguar I-Pace makes a very convincing case for with its impressive range and speedy charging capabilities. 
Of the two plug-in options on test, the BMW wins in the efficiency stakes. It has a larger battery than the Porsche and so can travel further on electric power alone, or assist the petrol engine for longer. It can travel solely on electric power for a claimed 54 miles – more than double that of the Porsche. However, while the BMW's claimed fuel economy is much better than that of the Porsche, both the X5 and Cayenne returned a very similar figure in mixed driving that reflected a high reliance on petrol power – around 25mpg for both. 
That's where the Jaguar comes in. Every last mile of its range is carried out under fully electric power and its claimed 292 miles wasn't too far off the 225 miles we managed in mixed driving with some spirited testing thrown in. The plug-in BMW X5 sets a new bar for the class thanks to its better integration of six-cylinder engine and electrification, making it the pick of the bunch if you really need the fall-back of an (admittedly very nice) petrol engine. The Cayenne doesn't sit too far behind, but suffers for having a paltry battery by comparison, while the Jaguar offers the best compromise between range and running costs.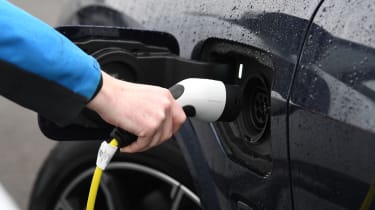 Charging
Charging speed is a fly in the X5's ointment: it only has a comparatively slow 3.7kW charger on board, so a full charge will take seven hours – in practice, that means making sure you have access to a charger all day at work, or charging overnight. The Cayenne comes as standard with a similarly lazy 3.6kW charger, but this can be upgraded to a 7.2kW item: it'll take six hours 15 minutes as standard, or around two hours with the optional charger.
The Jaguar is a slightly different prospect, of course – charging isn't optional here. A fairly large battery means a full top-up overnight will take quite some time; in the region of 13 or 14 hours. But 100kW rapid charging capability means an 80% top-up while out and about can be completed in 45 minutes if you can locate a fast enough public charger.