BMW X5 hybrid vs Porsche Cayenne hybrid vs Jaguar I-Pace: verdict and specifications
All things considered, the Jaguar I-Pace confirms that high-end electric cars really make a lot of sense if you can afford them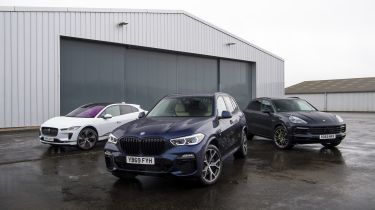 Everyone can agree that £70,000 is a lot of money to spend on a large family SUV, especially when so many great options are available for around half that amount. If you're spending so much on a car, it's important that you feel it – and in each of these cars, it's very clear where each manufacturer has spent that cash. 
All are great to drive, each offering a different degree of sportiness and driver engagement but all remaining comfortable, refined and effortless on the move. The added benefit of having high-performance saloon levels of power under your right foot is also hard not to enjoy. 
Powertrains and details are what will separate these rivals for most. Those looking for the most luxurious and long-legged option will be best served by the BMW, while the brand cachet, sporty nature and slick execution of the Porsche will always have its fans. However, as a balance between comfort and sportiness – and with all the added benefits of one of the best electric powertrains in the business – the I-Pace comes out on top.
1st: Jaguar I-Pace EV400 SE – 4.5 stars
The I-Pace was the first mass-produced pure-electric luxury SUV and yet remains the one to beat – even, in this case, for plug-in hybrid rivals. It offers intoxicating, effortless performance, a fantastic blend of comfort and sharp handing and even offers the largest boot. Its overall range is less than its petrol-assisted rivals, but it does away with all of the associated costs; a wider range of charging options mean you might be surprised how easily it slips into your life. Inferior entertainment and a relative lack of passenger space in this company are the only real bad points.
2nd: BMW X5 xDrive45e – 4.0 stars
The X5 has raised the plug-in hybrid SUV bar with its official all-electric range of over 50 miles. BMW's trademark silky straight-six and an electric motor make for an intoxicating pairing, offering smooth performance that's not too far removed from from that of the Jaguar. However, it's not as good to drive as the I-Pace nor the Porsche, and while it's perhaps the most luxurious of the three, its running costs ultimately keep it off the top spot. If you really want a plug-in hybrid SUV, however, the BMW is one of the very best around.
3rd: Porsche Cayenne E-Hybrid – 4.0 stars
The Porsche simply can't match the more modern X5's impressive plug-in hybrid feats, but it does use its smaller battery to devastating effect when it comes to outright performance. Its third-place finish comes down entirely to the realities of standard equipment, all-electric range and running costs – all of which it's beaten on. However, there's no denying that it's the best to drive out of these three, nor its stellar build quality and impressive balance of poise and refinement. It's the driver's choice but most will be better served by the BMW or Jaguar above.
Specifications
| Car | BMW X5 xDrive45e | Porsche Cayenne e-Hybrid | Jaguar I-Pace EV400 SE |
| --- | --- | --- | --- |
| List price | £68,245 | £68,358 | £69,995 |
| Engine | 3.0-litre petrol + electric motor | 3.0-litre petrol + electric motor | Dual electric motors |
| Transmission | Eight-speed auto, four-wheel drive | Eight-speed auto, four-wheel drive | Single-speed auto, four-wheel drive |
| Battery capacity | 24kWh | 14kWh | 90kWh |
| Power / torque | 389bhp / 600Nm | 456bhp / 700Nm | 395bhp / 696Nm |
| 0-60 / 30-70mph | 5.6 /5.0 seconds | 4.5 / 4.0 seconds | 4.4 / 3.7 seconds |
| Top speed | 127mph | 157mph | 124mph |
| Braking 70-0 / 60-0 / 30-0mph | 50.0 / 35.6 / 10.7 metres | 52.9 / 38.3 / 9.5 metres | 46.8 / 34.6 / 8.8 metres |
| 100% charge cost at 14p/kWh | £3.36 | £1.96 | £12.60 |
| Charge time (socket / wallbox) | 7hrs / N/a | 4hrs / 2hrs | 27hrs / 13hrs30mins |
| Official MPG / CO2 / electric range | 188–235mpg / 39g/km / 54 miles | 52–72mpg / 89g/km / 22 miles | N/a / 0g/km / 292 miles |
| On-test efficiency / range | 24.4mpg /  370 miles | 25mpg / 413 miles | 2.5 m/kWh / 225 miles |
| Road tax / BiK rate  | £465 / 6% | £465 / 20% | £0 / 0% |
| Length / width / height / wheelbase | 4,922 / 2,004 / 1,745 / 2,975mm | 4,918 / 1,983 / 1,696 / 2,895mm | 4,682 / 2,011 / 1,565 / 2,990 |
| Boot capacity (seats up/down) | 500 / 1,720 Iitres | 645 / 1,605  litres | 656 / 1,453 litres |