BMW X5 hybrid vs Porsche Cayenne hybrid vs Jaguar I-Pace: space and practicality
The Jaguar I-Pace wins the boot capacity competition, but the BMW and Porsche offer a little more space for passengers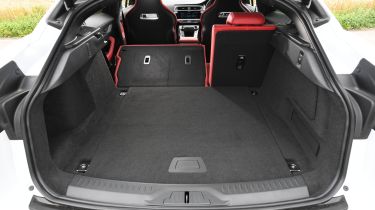 The BMW X5 is the biggest car here and it feels it on smaller roads. The payoff is a cavernous interior; it's certainly the best choice for long-distance cruising thanks to its fantastic seats, big reserves of legroom and an airy feel. On paper, there's less boot room than in each of its rivals, but the load area is practically shaped and, with the rear seats folded, there's more space than you'll find in either the Porsche or the Jaguar. Tipping the balance between passenger space and luggage capacity a little towards the former means the X5 is probably the best to travel in as a rear-seat occupant. 
The Porsche's boot measures in at 645 litres, which is smaller than that of the Jaguar, but as with the X5 its of a more practical, squarer shape. There's just as much rear-seat room as you get in the X5 but second-row occupants will have to be content with sitting a little lower down. Still, there's more room for passengers than in the back of the Jaguar. We were disappointed by a relative lack of cubby holes for smaller items. 
Thanks to its decent packaging and 'skateboard' chassis, the I-Pace manages to fit more litres of boot space into a car that's smaller than each of its rivals. The boot is only slightly bigger than the Cayenne's but a decent chunk larger than the X5's.
The Jaguar's more aggressively raked rear hatch does limit flexibility, however, and with the seats folded there's not as much space as in its larger rivals. Space for rear-seat passengers is adequate; the sculpted sports seats up front rob a little room, but only the tallest occupants will have reason to complain. Welcome features include a useful cubby underneath the centre console for odds and ends, plus decent-sized door bins up front. 
All three cars come with space under their respective boot floors for cable storage. It's also worth noting that in terms of access, the Jaguar can stoop the lowest on its active air suspension, which settles down to access level after being parked. The Porsche and Jaguar have doors designed to minimise dirty trouser legs by covering up the sills, while the X5 requires a little more care thanks to its more pronounced lip.