Fisker PEAR: first look at sub-£25,000 electric SUV
Fisker's affordable electric crossover will offer over 310 miles of range; prices expected to start from less than $29,900 in the US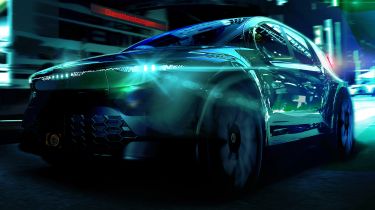 Fisker is currently gearing up for the launch of its Ocean SUV, but has also released some fresh details about its forthcoming second electric car, called the PEAR – an acronym for 'Personal Electric Automotive Revolution'.
Due to appear in the second half of 2023, the PEAR will be available with single and dual-motor setups for a choice of rear or all-wheel-drive. Two battery sizes will be offered, with the larger Hyper Range pack expected to return over 310 miles on a charge. The electric crossover's SolarSky panoramic roof should help add a few extra miles of range as well.
In terms of the PEAR's design, it will have a large, wraparound windscreen, short overhangs to maximise cabin space and four doors. The rear of the car will be even more unique, according to Fisker, as it'll feature a 'Houdini' trunk instead of a regular hatchback. Exactly how drivers will access the boot remains a mystery for now.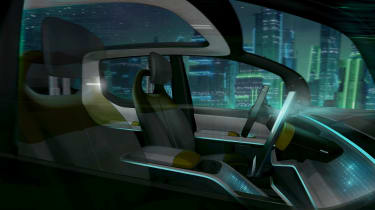 So far we've only seen one image of the PEAR's interior (above) in which only a large central screen is visible, mounted to the swooping dashboard. This suggests the PEAR will feature a similar cabin design to the Tesla Model 3 and Model Y, whose single screen is used for both driver information and media. The concept art also shows the PEAR with a two-tone interior colour scheme, and huge windows all around that should help with visibility.
The other teaser images Fisker has shared reveal that the PEAR will carry over some styling cues from the Ocean, including the illuminated model name and ultra-thin headlights at the front. It's hard to judge the size of the car from the one image, however Fisker has previously stated it'll measure around 4.5 metres end to end – roughly the same as a Kia Sportage.
Despite that, Fisker still describes the PEAR as an "agile urban EV", while the car's expected starting price of less than $29,900 (around £24,500 at the time of writing) in the US is significantly cheaper than any electric car of a similar size.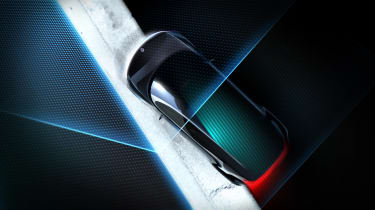 Other details on the PEAR's charging speed, battery sizes and performance haven't been disclosed yet. We do know that the PEAR will go into production in 2024 and that, according to its manufacturer, it'll "blend sustainability, technology and design into a digitally connected, compact, five-passenger urban EV" with "intuitive controls, sporty driving and clever storage".
Fisker added: "Our engineering group is working on new features and high-tech solutions for the PEAR that will change how we use and enjoy a vehicle in the city."
The PEAR's new underpinnings will also be used for another two models Fisker teased earlier this year, one of which we believe is an electric pickup truck. Unlike the Ocean, the PEAR is being produced in collaboration with Chinese manufacturing giant Foxconn. The company is targeting a minimum production volume of 250,000 cars a year from its facility in Ohio.
Fisker is currently taking $250 deposits for the PEAR, and has confirmed it plans to bring the model to Europe. At the time of writing, over 3,200 people have made a reservation for a PEAR.
New electric cars coming in 2022 and beyond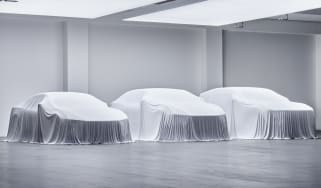 New electric cars coming in 2022 and beyond
1,972bhp Ford Electric SuperVan can do 0-62mph in under two seconds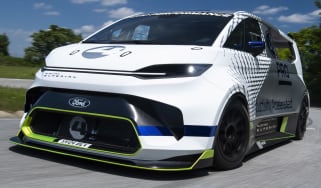 1,972bhp Ford Electric SuperVan can do 0-62mph in under two seconds
New ORA Funky Cat electric car: prices, specs and walkaround video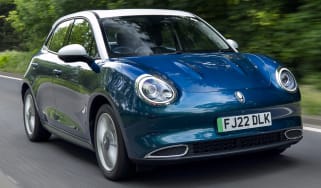 New ORA Funky Cat electric car: prices, specs and walkaround video
Top 10 best seven-seater electric and hybrid cars 2022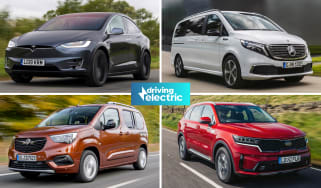 Top 10 best seven-seater electric and hybrid cars 2022
If the regular crop of electrified SUVs and family cars don't provide enough practicality for you, then take a closer look at the range of electric an…
Top 10 cheapest electric cars 2022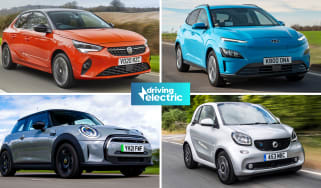 Top 10 cheapest electric cars 2022
Contrary to popular opinion, not all electric cars are expensive. Here are the cheapest ones available in the UK right now
1,972bhp Ford Electric SuperVan can do 0-62mph in under two seconds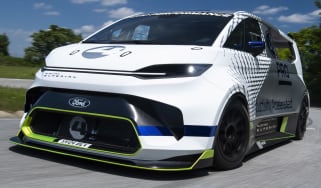 1,972bhp Ford Electric SuperVan can do 0-62mph in under two seconds
Based on the new E-Transit Custom, the Electric SuperVan has made its debut 2022 Goodwood Festival of Speed