Fisker PEAR: first look at £25,000 electric city car
The cut-price EV is due to be unveiled in the second half of 2023 and offer up to 310 miles of range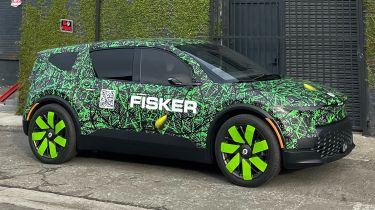 Production of the all-new Fisker Ocean electric SUV only began in November 2022, but the US carmaker is already gearing up to launch its second EV, the PEAR – an acronym for 'Personal Electric Automotive Revolution'. The electric city car has been spotted testing, providing us with our first look before its unveiled later this year. 
Potential rivals to the PEAR span electric hatchbacks like the MG4 EV, Volkswagen ID.3 and Renault Megane E-Tech, as well as some of the smaller zero-emissions SUVs on the market such as the MG ZS EV and Hyundai Kona Electric. 
In terms of the design, the PEAR does share some cues with the existing Ocean, including the model's name across the nose, wide plastic grille panel, steeply raked windscreen and extremely short overhangs at the front and rear. But, the PEAR does feature a much sharper nose and relatively small bonnet compared to the Ocean, plus a sloping roofline towards the rear. 
It's hard to gauge the PEAR's dimensions from the photo, but the firm has said it'll measure roughly 4.5 metres long – about the same length as a Kia Sportage family SUV – will offer room for five people, yet still be agile for city life.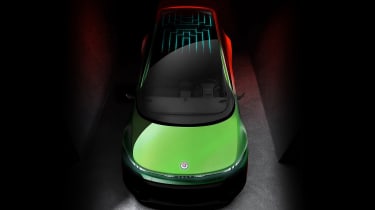 Speaking to DrivingElectric in 2022, company CEO and founder Henrik Fisker said about the PEAR's styling. "I wanted to have an exterior design that was very recognisable, and did not look at all like anything else." Adding, "In the PEAR, I think it will be very hard for anybody to say it kind of looks like something else, because it looks so different and I think it has a very iconic shape. It's very clean, very simple and, I think, very futuristic."
When asked about how the PEAR's sub-$30,000 price tag in the US will translate to European markets, Fisker said: "we're not making huge differences in the pricings [between the US and UK]… I expect definitely it to come in under £29,000, maybe closer to £25,000."
To achieve that figure, Fisker says, "the mandate in the PEAR is 'fewer parts, fewer parts and fewer parts', and make it as simple as possible. Then, we are working with Foxconn to figure out how we can innovate in manufacturing, find easier ways to assemble the vehicle… less hours means lower costs. So, we are very comfortable that we can achieve the PEAR pricing."
Two battery sizes will be offered in the PEAR, with the larger Hyper Range expected to return over 310 miles on a charge, plus single and dual-motor setups for a choice of rear or all-wheel drive. Meanwhile, the electric crossover's SolarSky panoramic roof should help add a few extra miles of range as well.
Like all of Fisker's cars, the PEAR will have at least four unique features, the first being a 'Houdini' trunk as opposed to a regular hatchback. Exactly how drivers will access the boot remains a mystery for now, but Fisker did tell us: "We did all these user scenarios for young people living in megacities, and one of them is, you're parked on the street and a lorry or something is parked straight up behind you – how do you get into the trunk?
"So, we had to find a new way of opening the trunk that is not the traditional hatch. That's never been done on a production car before. We then have some other unique spaces where you can put things which haven't really been done before in that way," he continued. "It was really about increasing space and utility in this vehicle." That idea continues in the cabin, which Fisker says will be simple, but also offer as much storage space as possible.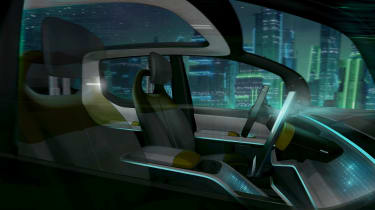 So far, we've only seen one image of the PEAR's interior, in which only a large central screen is visible, mounted on the swooping dashboard. This suggests the PEAR will feature a similar cabin design to the Tesla Model 3 and Model Y, whose single screen is used for both driver information and media. The concept art also shows the PEAR with a two-tone interior colour scheme, and huge windows all around that should help with visibility.
The PEAR looks to carry over some styling cues from the Ocean, based on what can be seen in the handful of teaser images so far. These include the illuminated model name and ultra-thin headlights at the front. It'll also have a large, wraparound windscreen, short overhangs to maximise cabin space and four doors.
Fisker added: "We have a few other surprises in the vehicle as well that we're not quite ready to talk about." He also revealed that some of the PEAR's unique features will allow it to be used by food-delivery or ride-hailing services.
The Fisker PEAR is expected to be unveiled in the second half of 2023, before production commences the following year. It's being produced in collaboration with Chinese manufacturing giant Foxconn, with the company targeting a minimum production volume of 250,000 cars a year from its facility in Ohio. Fisker is currently taking $250 deposits for the PEAR, with over 3,000 people already making a reservation.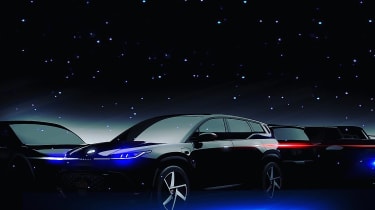 Future Fisker electric cars
The PEAR's all-steel underpinnings will be used for another two models Fisker himself teased in 2022, one of which we believe is an electric pickup truck. While Fisker didn't reveal anything about the next models in the PEAR range, he did say that they'll be "radically different" and that the company doesn't want to make "just another small hatchback, or another small crossover. Every vehicle will definitely be very unique."
Fisker is also working on a four-seat convertible GT car with a range of approximately 600 miles, called the Ronin. CEO Henrik Fisker shared on social media that the flagship Tesla Roadster rival will be capable of 0-60mph in close to two seconds – thanks to a combination of three electric motors – while offering space for four adults and their luggage.
New Ford Explorer electric SUV revealed in full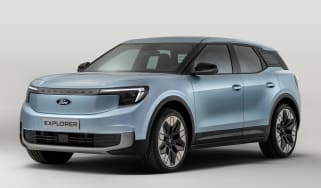 New Ford Explorer electric SUV revealed in full
Top 5 best electric sports cars 2023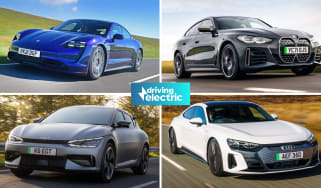 Top 5 best electric sports cars 2023
New Ford Explorer electric SUV revealed in full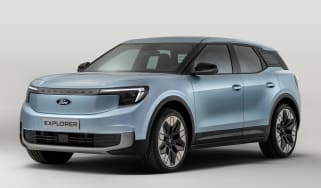 New Ford Explorer electric SUV revealed in full
Ford's new electric crossover boasts a range of more than 300 miles and will be built on the same platform as the Volkswagen ID.4 SUV
New Volkswagen ID.2all previews £22k electric hatchback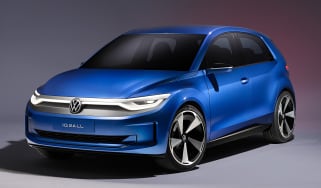 New Volkswagen ID.2all previews £22k electric hatchback
Volkswagen has unveiled its latest concept car, previewing its future rival to the Vauxhall Corsa Electric
Driver Power: The best electric and hybrid cars to own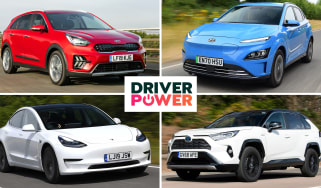 Driver Power: The best electric and hybrid cars to own
DrivingElectric's very own customer satisfaction survey ranks the very best EVs and hybrid cars, as voted by you