New electric cars coming in 2022 and beyond
With electric cars making up an ever-increasing proportion of sales, the industry is working flat out to launch new models – here's what's on the way soon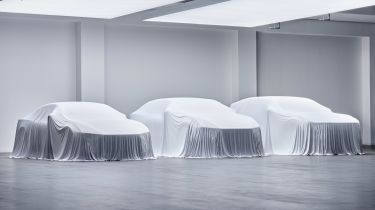 With the 2030 ban on the sale of new petrol and diesel cars quickly approaching, electric cars are becoming more and more mainstream, with nearly 12% of new cars sold during the course of 2021 being fully electric.
Manufacturers are continuing to develop and launch waves of new electric cars of all varieties, from city cars and hatchbacks to seven-seat SUVs and luxurious limousines, as established automotive brands go head-to-head with recently founded startups.
Here, we take a look at some of the most anticipated and interesting new zero-emissions models coming your way during 2022 and beyond…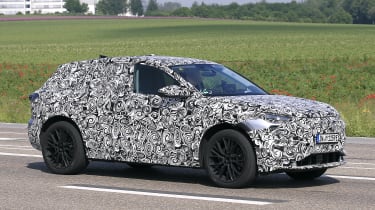 Audi Q6 e-tron
Audi's range of e-tron-badged electric cars is expanding. There's the original e-tron SUV and its Sportback variant, as well as the SUV and Sportback versions of the Q4 e-tron and the high-performance e-tron GT four-door. Next up will be the Q6 e-tron, a sister to the forthcoming electric Porsche Macan. Setting it apart from the  Q4 e-tron is the fact that it sits on 'PPE' (Premium Platform Electric) underpinnings for upmarket electric cars, co-developed with Porsche. A range of around 300 miles can be expected, as well as a 500bhp power output – possibly boosted further in an 'RS' performance model. Read more about the Q6 e-tron here.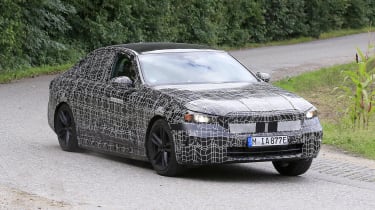 BMW i5
Rather than launching specific electric models, BMW is planning to offer most of its range with a choice of combustion, hybrid or electric power in the coming years. The latter models will get names beginning with 'i' and there are no prizes for guessing that the 'i5' badge will sit on the back of the fully electric version of the next BMW 5 Series. BMW first confirmed this car would be offered as a zero-emissions model in 2020, but so far only spy shots of prototype examples (above) have appeared. It's expected to be unveiled during 2022 as a 2023 model-year car. Read more about the BMW i5 here.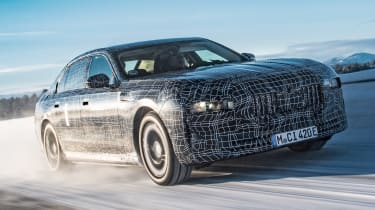 BMW i7
The BMW 7 Series is the brand's flagship saloon and the next iteration will get a fully electric variant known as the i7, taking on the Mercedes EQS, Porsche Taycan and Tesla Model S, among others. In December 2021, BMW released the first official images of the zero-emissions luxury saloon, cold-weather testing near the Arctic Circle ahead of its unveiling in 2022. Range figures well in excess of 400 miles are possible if the i7 uses the same 105.2kWh battery as the top-of-the-range version of the BMW iX. A starting price in the region of £100,000 is also likely. Read more about the BMW i7 here.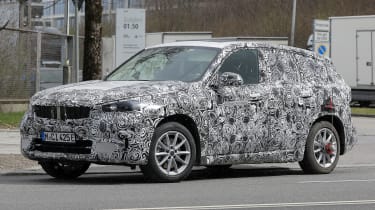 BMW iX1
With electric SUVs in demand, it's not a surprise to learn that the iX won't be BMW's only effort in this area. You can already buy an iX3 electric variant of the X3 family SUV, and the smaller X1 will follow suit: its next-generation model, likely to be revealed in 2022, will include a zero-emissions iX1. It's likely to have a smaller battery and therefore a shorter range than the iX3, but will take styling cues from its bigger sibling, including blue accents and aerodynamic alloy wheels. Like the iX3, we can expect a small compromise when it comes to the iX1's boot space and practicality. Read more about the BMW iX1 here.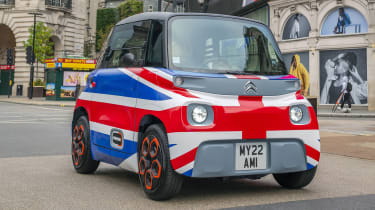 Citroen Ami
It was unclear for some time whether or not the Ami would be making its way to UK shores. However, in late 2021 it was confirmed that the ultra-compact electric vehicle will be sold here, with prices expected to start from around £6,000. It'll remain in left-hand-drive configuration, but that hasn't dampened potential owners' enthusiasm, as over 14,000 people have registered interest in the Ami, with over 1,000 paying a £250 reservation fee. The Ami uses an 8bhp electric motor powered by a 5.5kWh battery, will reach a top speed of 28mph and has an estimated driving range of 46 miles. Read more about the Citroen Ami here.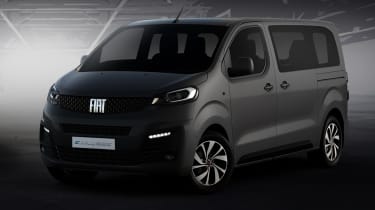 Fiat e-Ulysse
A sister model to the already-on-sale Citroen e-SpaceTourer, Peugeot e-Traveller and Vauxhall Vivaro-e Life, the e-Ulysse revives the name of an old Fiat people-carrier model for a nine-seater fully electric minibus. In common with its Stellantis Group siblings, the e-Ulysse will get a 134bhp electric motor and 50kWh battery pack for a claimed range of just over 140 miles on a charge. Full UK pricing and specifications are under wraps for now, but should appear before order books open during the first quarter of 2022. Read more here.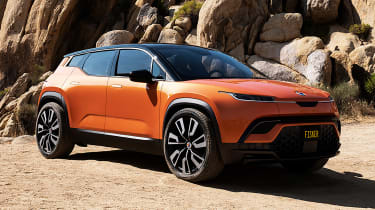 Fisker Ocean
The Ocean is a zero-emissions SUV that'll rival the likes of the Audi Q4 e-tron, BMW iX3 and Tesla Model Y when it arrives in the UK in 2023. Prices are expected to start from £32,490 for the entry-level model, while top-spec versions will capable of covering "in excess of 350 miles" on a charge according to the American brand's CEO. Inside, there's a slim digital driver's display behind the two-spoke steering wheel, while the dashboard is dominated by a 17.1-inch central infotainment touchscreen that's portrait-orientated when you're driving, but can rotate 90 degrees into 'Hollywood' mode when parked, so you can watch a movie while topping up the battery. Read more about the Fisker Ocean here.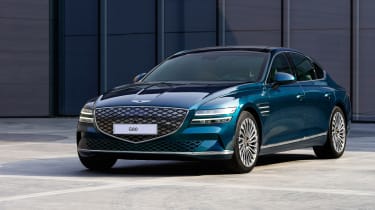 Genesis Electrified G80
Genesis is a new luxury-car brand launched in 2021, but it didn't come out of nowhere. Rather, it's a spinoff from the Hyundai and Kia group, so its electric cars  share technology with the latest zero-emissions models from those companies. The Electrified G80 is up first, following on from the conventionally fuelled G80. Genesis says it's capable of over 311 miles on a charge – although that was measured using the old NEDC test; a sub-300-mile result is expected from the more modern WLTP procedure. The Electrified G80 is only available with all-wheel drive, thanks to a twin-motor setup that produces 359bhp and 700Nm of torque. In Sport mode, that results in a 4.9-second 0-62mph time. Read more about Genesis Electrified G80 here.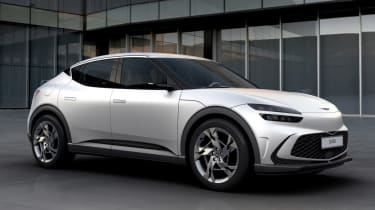 Genesis Electrified GV60
The GV60 was the second electric model to be unveiled by Hyundai's luxury spinoff. Unlike the G80 above and GV70 below, it won't also be available with combustion engines, being purely electric only. It shares underpinnings with the Hyundai Ioniq 5 and Kia EV6 and it'll feature ultra-rapid charging plus a dual-screen infotainment setup. Three versions of the GV60 will be available: an entry-level, rear-drive model; another with all-wheel drive; and a performance model, also with all-wheel drive. All versions use a 77.4kWh battery. Its rivals includes the Tesla Model Y and Audi Q4 e-tron Sportback. Read more about the GV60 here.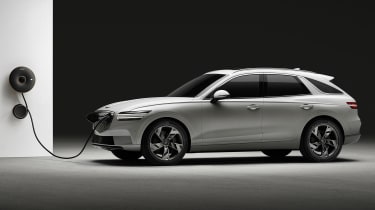 Genesis Electrified GV70
The GV70 is the first electric SUV from Genesis. It's only available with all-wheel drive, thanks to a dual-motor setup that produces 483bhp and 700Nm of torque in Boost mode. The result is 0-62mph in 4.5 seconds – faster than a Jaguar I-Pace. Battery sizes and  range figures have yet to be announced, but it'll have the same rapid-charging capability as the other electric models in Genesis' line-up, meaning topping up from 10-80% will take under 20 minutes from a 350kW charging point. Other notable features are the Active Noise Control-Road (ANC-R) system, which eliminates road noise; and suspension that can be adjusted based camera and sat-nav data about the road ahead. Read more about the Genesis GV70 here.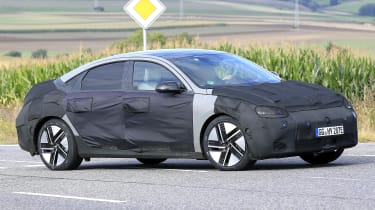 Hyundai Ioniq 6 and Hyundai Ioniq 7
The Hyundai Ioniq 5 was perhaps the most impressive electric car to launch in 2021, with its futuristic styling, spacious interior and ultra-rapid charging. It kicked off the second generation of Hyundai EVs, which will expand in 2022 with an Ioniq 6 saloon (recently spied testing) and again in 2024 with an Ioniq 7 SUV. Details on either car are thin on the ground at the moment, but we do know  they'll use the same platform that underpins the Ioniq 5, and that visually the 6 will draw heavily on 2020's Hyundai Prophecy concept car. Read more about the Hyundai Ioniq 6 saloon here and the Ioniq 7 SUV here.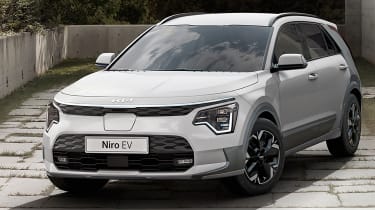 Kia Niro EV
The Kia e-Niro has been a highly popular model for the South Korean carmaker, and in November 2021, it was confirmed that the next generation of the family SUV will also be available with battery-electric power when it arrives in 2022. The Niro has received a significant styling update, has a new infotainment setup and uses recycled materials in the cabin. Details on range, battery size and performance remain under wraps for now; it's also not known whether the 'e-Niro' moniker will be retained, or if it'll switch to the 'Niro EV' name already used in most markets outside the UK. Find out more about the new electric Kia Niro here.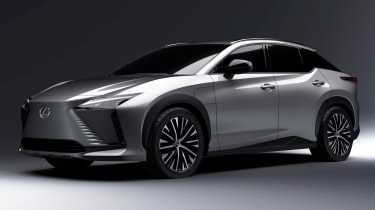 Lexus RZ
Having stuck with hybrid technology for years, Lexus is finally making the move to zero emissions in a big way. You can already buy the UX 300e electric SUV, but that shares a platform with the UX 250h hybrid. The upcoming RZ is more representative of Lexus' electric future, which will see a whole range of EVs launched using the e-TNGA platform developed by parent company Toyota. Inspired by the LFZ concept's styling, the RZ will feature a large battery for impressive range, along with sophisticated four-wheel-drive and steer-by-wire systems, plus a typically high-tech interior, when it launches in 2022. Read more on the RZ here.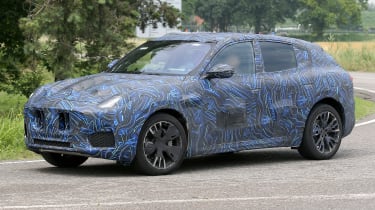 Maserati Grecale Folgore
Maserati is undergoing a rebirth at the moment as it gears up for an electrified future. The upcoming Grecale SUV will play a big part in that transformation, launching in 2022 with a number of powertrain options. Those will include an electric version to sit alongside the planned zero-emissions variants of the GranTurismo, GranCabrio and MC20 in the brand's range. They'll all wear the 'Folgore' (Italian for 'lightning') badge to set them apart from combustion-engined equivalents. Read more about the Maserati Grecale here.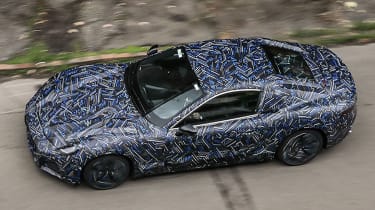 Maserati GranTurismo Folgore
In June 2021, Maserati released the first images of its new GranTurismo testing on track and on the streets of Modena, Italy, in prototype form. The images show the prototypes of the new two-door GT sporting vertical headlights like those on the MC20 supercar, as well as a set of aerodynamic wheels. We don't yet know the number of electric motors, battery size or power output of the electric GranTurismo, only that it'll be followed up by a new GranCabrio four-seater convertible, which will also be available with a fully electric powertrain. The new electric GranTurismo will arrive sometime in 2022 – read more about it here.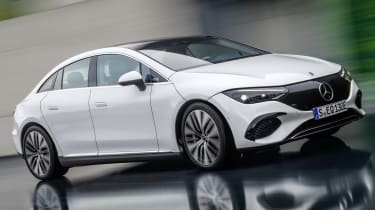 Mercedes EQE saloon
The EQE is Mercedes' electric equivalent to the big-selling petrol, diesel and hybrid E-Class saloon. It features aerodynamic styling that's nearly identical to that of the larger EQS, while also packing a 90kWh battery – good for over 400 miles of driving on a charge, says Mercedes. The EQE will come with ultra-rapid charging capability up to 170kW, and will be offered with the same Hyperscreen infotainment setup as the EQS flagship. Read more about the standard model here and the high-performance AMG variant here.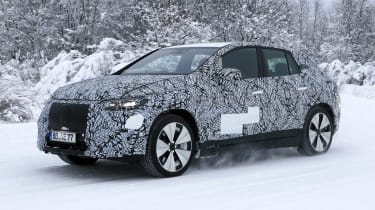 Mercedes EQE SUV
Not yet fully revealed by Mercedes, this fully electric equivalent to the GLE combustion-engined SUV has nonetheless been spied undergoing testing on public roads, wearing varying degrees of camouflage. It'll slot into the Mercedes electric SUV line-up above the already-on-sale EQA, EQB and EQC, offering a large and luxurious zero-emissions driving experience. As with other EQ models, the EQE SUV is likely to be available with a range of different battery sizes and power outputs. The range-topper should easily exceed the 350-mile range, as well as offer a punchy sub-five-second 0-62mph time. Read more on the EQE SUV here.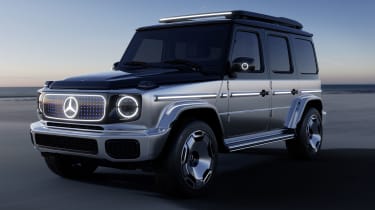 Mercedes EQG
While we've yet to see a production-ready version of this car, the Concept EQG that Mercedes unveiled at the 2021 Munich Motor Show gave us our first taste at what an electric reimagining of the brand's square-jawed G-Class 4x4 could look like. We do know that it'll be arriving in 2024 and will retain most of its legendary off-road prowess. For more, check out our story on the Concept EQG here.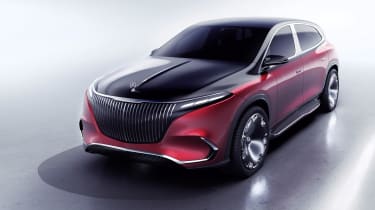 Mercedes EQS SUV
An SUV version of Mercedes' EQS luxury electric flagship is on the way, with our first hint at what's to come arriving in the form of the "near-production one-off" Concept Mercedes-Maybach EQS unveiled at the 2021 Munich show. The EQS SUV will be the same size as the combustion-engined GLS, and we expect a range of between 350 and 400 miles, as well as four-wheel drive and ultra-rapid charging capability, like the EQE saloon and EQS limousine it shares its platform with. Read more about the EQS SUV here.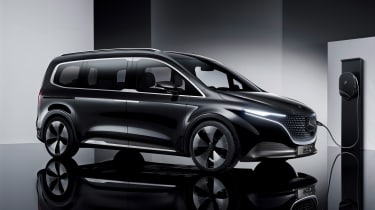 Mercedes EQT
More sensible and down-to-earth models haven't been forgotten as Mercedes makes the leap to electric. A replacement for the Citan passenger van, the EQT is aimed at families and buyers with active lifestyles, who need spacious and practical transport. The Concept EQT (pictured) hints at what the production version will look like. In similar fashion to the outgoing Citan, the EQT will be made in co-operation with Renault, sharing the platform and powertrain of the latest Renault Kangoo E-TECH. That means we can expect the same 44kWh battery, for roughly 160 miles' range from a charge. Read more about the Mercedes EQT here.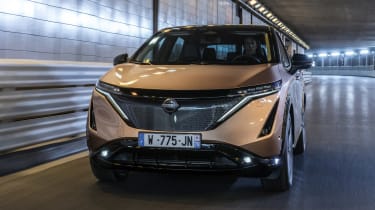 Nissan Ariya
The Ariya is Nissan's take on electrified family transport and will be a major rival for the Volkswagen ID.4 and Ford Mustang Mach-E. Based on a 2019 concept of the same name, the Ariya gets a choice of battery sizes, up to 389bhp and as much as 310 miles' range on a charge, depending on specification. It's being built on the Renault-Nissan-Mitsubishi CMF-EV electric-car platform, which also forms the basis of the electric Renault Megane. Read more about the Ariya here.
ORA CAT
In late 2021, Chinese carmaker Great Wall confirmed that its recently established electric-only brand ORA will be coming to the UK. The first model to arrive will be the CAT, a zero-emissions hatchback to take on the Volkswagen ID.3 and Nissan Leaf. It'll be offered with two different battery sizes – 48 or 63kWh – for claimed ranges of up to 209 and 261 miles respectively. Deliveries will begin in the first half of 2022, with prices starting from around £25,000 for the entry-level 48kWh model. Watch our first-look video here.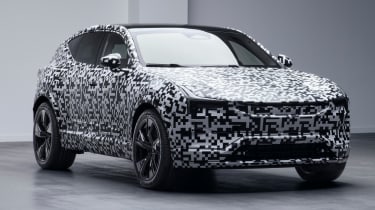 Polestar 3
Following on from the Polestar 1 plug-in hybrid and Polestar 2 four-door coupe EV, the Swedish brand's third offering will be a full-size SUV called, unsurprisingly, the Polestar 3. When it launches in 2022, the 3 will take on the Tesla Model X, Audi e-tron and BMW iX. Other than that, details remain thin on the ground – you can read what we know about the Polestar 3 so far here.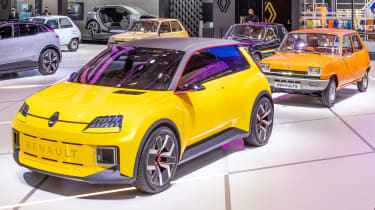 Renault 5
Renault caused quite the stir online in early 2021 when it unveiled the new 5: a reinvented version of its iconic hatchback, now with electric power. So far, all we know is that the new 5 will be capable of covering up to 249 miles on a charge, should go on sale in 2024 and will take on Cupra and Volkswagen's entry-level electric cars, with prices starting from around £17,500. Read more about the reborn Renault 5 here.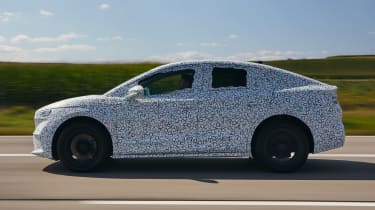 Skoda Enyaq iV Coupe
The Enyaq iV shares its platform with the Volkswagen ID.4 and Audi Q4 e-tron. And just as those models have coupe counterparts in the shape of the ID.5 and Q4 e-tron Sportback, so will the Skoda. No images of the undisguised production car have been released by the Czech brand yet, but we have driven a prototype. It'll likely be available with the same powertrains and trim levels as its sister car, but Skoda has yet to provide  official specs or prices for the Enyaq iV Coupe. Read our test of a Skoda Enyaq iV Coupe prototype here.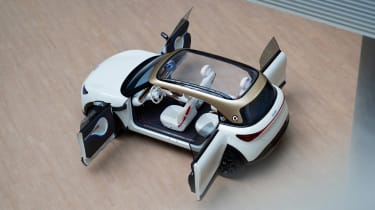 Smart electric SUV
In 2023, Smart will launch its first electric SUV, which will bear some resemblance to the Concept #1 that the brand unveiled at the 2021 Munich Motor Show (pictured above). Precise technical details remain thin on the ground at the moment, but we expect the future Vauxhall Mokka-e rival will be capable of around 200 miles on a charge and be powered by a single electric motor. Read more about the new Smart SUV here.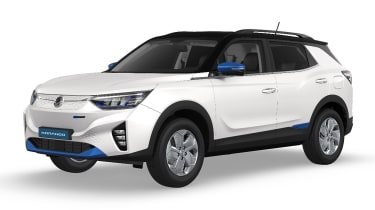 SsangYong Korando e-Motion
SsangYong has become known for building robust but somewhat rudimentary SUVs and pickup trucks over the years, but now it's ready to embrace the future with an electric version of its current Korando SUV, which will be called the e-Motion. The zero-emissions Korando is rumoured to be getting a 61.5kWh battery, which should give it a range of around 200 miles on a charge. It's also expected to use a single electric motor generating 188bhp, which would make it the most powerful Korando in the line-up. SsangYong is promising "best-in-class" acceleration and a top speed of 95mph. Read more about the electric Korando here.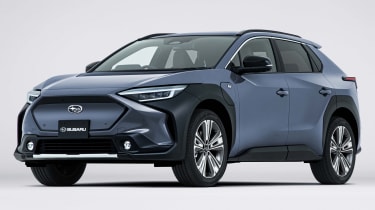 Subaru Solterra
The Solterra is the Japanese brand's first electric model and will go on sale in mid-2022. A sister car to the Toyota bZ4X SUV (profiled further down this article), the Solterra uses a new platform dedicated to electric vehicles and will be available in front-wheel-drive or all-wheel-drive forms. According to Subaru, the Forester-sized SUV will be capable of up to 330 miles on a charge, and we expect it'll be priced from around £40,000. Exact specifications will be released closer to launch; in the meantime, read more about the Solterra here.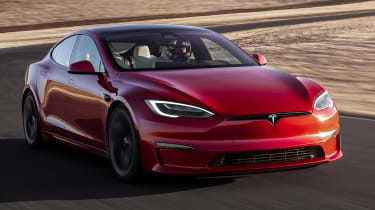 Tesla Model S Plaid
The Tesla Model S is somewhat in limbo at the moment – at least for buyers in the UK. If you order one now, Tesla doesn't expect to get it to you until the very end of 2022. But if you're willing to wait, one of the versions you can order is the searingly fast Model S Plaid. It's priced at just under £111,000, is claimed to break the 1,000bhp barrier, can get from 0-62mph in exactly 1.99 seconds, will top out at 200mph and has a range of 390 miles. Read more about the Model S Plaid here.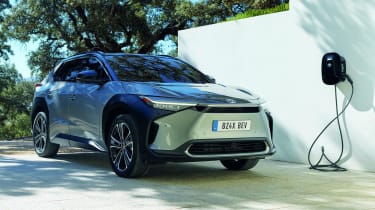 Toyota bZ4X
Toyota has been slower than most major carmakers to embrace the shift to fully electric power, preferring instead to focus on its proven hybrid technology. But now, the Japanese carmaker has unveiled a fully electric model: the bZ4X SUV, the first in a line of 'bZ' ('Beyond Zero') models set to be launched in the coming years. As with its Subaru sister car the Solterra (profiled above), two-wheel-drive and four-wheel-drive versions will be available. A range of over 280 miles is expected thanks to a 71kWh battery, which you'll be able to top up to 80% in around 30 minutes from a 150kW charger. Read more about the bZ4X here.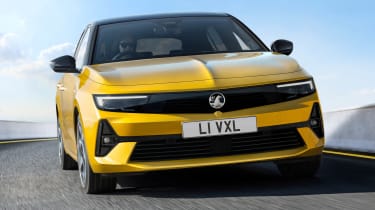 Vauxhall Astra-e
Vauxhall has confirmed an electric version of the eighth-generation Astra, called the Astra-e, will be available by 2023. The forthcoming rival to the Volkswagen ID.3, Hyundai Ioniq 5 and Citroen e-C4 – among others – will join the company's range of electric cars, which currently includes the Mokka-e SUV, Corsa-e supermini, Combo-e Life people carrier and Vivaro-e Life minibus. Read more about the new Astra here.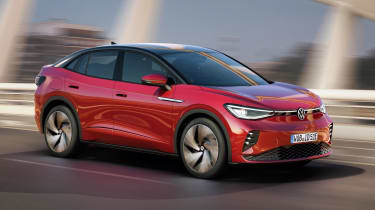 Volkswagen ID.5
The next model in Volkswagen's ID range is the ID.5 – a coupe-SUV variant of the ID.4. Three versions have been announced so far, all with a 77kWh battery. There are two single-motor versions, which can cover up to 323 miles on a charge; as well as the high-performance GTX, which gets a dual-motor setup that pumps out 295bhp and takes just 6.3 seconds to get from 0-62mph. An exact launch date and UK pricing have yet to be announced, but we expect that going for the more rakish model will add around £2,000 to the price of an equivalent ID.4. Read more about the ID.5 and ID.5 GTX here, and read our drive of an ID.5 prototype here.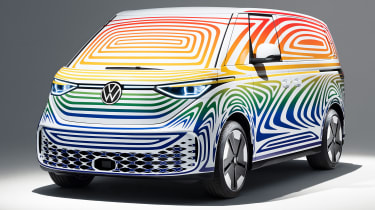 Volkswagen ID. Buzz
The Volkswagen ID. Buzz Concept was unveiled in 2017 and the production version of the retro-inspired electric minibus is finally set to arrive in 2022. Like the other models in the ID. range, the ID. Buzz will sit on the 'MEB' mechanical platform. Battery capacities ranging from 48 to 111kWh are expected, for an estimated driving range of up to around 340 miles, while a commercial van version will be offered, too. Read more about the ID. Buzz here.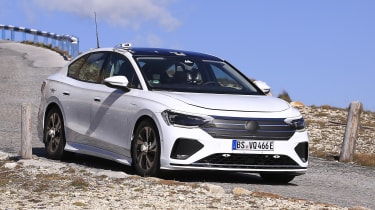 Volkswagen ID.Vizzion
Another forthcoming addition to Volkswagen's ID. range is a Passat-sized model, offered in both four-door hatchback and five-door estate form. The production version of the ID.Vizzion concept, which may receive a different name when it goes into production, is expected to arrive in either 2022 or 2023, ahead of the entry-level ID.1 supermini and ID.2 crossover. It's based on the same platform as the ID.3 hatchback and ID.4 SUV, so we expect similar battery options to its sister cars. Read more about the ID.Vizzion here.
Top 10 best luxury electric cars 2022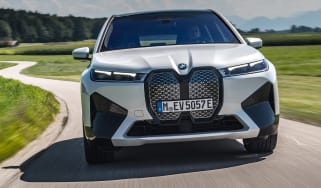 Top 10 best luxury electric cars 2022
From Audi to Tesla, here are our top picks of the most luxurious zero-emissions motoring options on the market right now
Top 9 best small electric cars 2022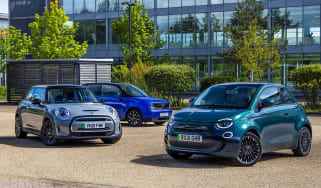 Top 9 best small electric cars 2022
Small electric cars make a lot of sense for commuting, city life and saving big on running costs. We pick out the best ones to buy in the UK right now
How much is the Benefit-in-Kind company-car tax on an electric car?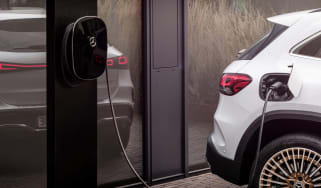 How much is the Benefit-in-Kind company-car tax on an electric car?
The company-car tax, or BiK, on electric cars is 1% during the 2021/22 financial year and will rise to just 2% in 2022/23, making a zero-emissions veh…