Mercedes Vision EQXX electric concept car covers 626 miles on a charge
Mercedes' latest electric-car prototype completed a road trip from Germany to the south coast of France without a top-up – and with 87 miles' range left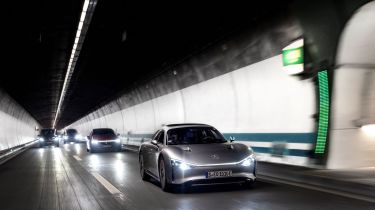 The Mercedes Vision EQXX electric prototype has successfully completed a thousand-kilometre road trip across Europe, covering 626 miles on a charge with around 15% capacity still left in its battery. 
That means the car could have travelled up to 1,150 kilometres – or nearly 715 miles – before the battery was totally depleted. Speaking to DrivingElectric, Mercedes' chief technology officer Markus Schaefer said that the car's official range figure, if it were put through the WLTP testing procedure, would be even higher.
The one-off concept also achieved an efficiency figure of 7.14 miles per kilowatt-hour (kWh) exceeding even Mercedes' six miles per kWh estimate. For reference, we recently saw a Tesla Model 3 return 4.4 miles per kWh. The EQXX averaged 54mph across the day-long journey, hitting a maximum of 87mph during certain stints of the drive from Sindelfingen in Germany to Cassis in France.
"It's the most efficient Mercedes-Benz in 150 years," Schaefer said. "Internally, we were joking that it's our Mars landing achieving this kind of record in the EV world. We've set new benchmarks and milestones, and now we'll implement everything that we have learned and the components into series production in the next few years."
He added: "We were sitting in traffic jams and there were construction zones that were not calculated [on the simulation runs] so I think we had everything that real life would offer you day-to-day and no special driving style. We really wanted to have something that was mirroring what was happening in the real world, because we want to bring this technology to series production and see the same results," he added.
We'll see the first application of the Vision EQXX's technology in 2024, when the company unveils new models based on its forthcoming MMA platform. Schaefer told us that the battery, electric motor and other elements from the EQXX will be carried over to series production cars in the future.
The futuristic four-door went from a clean-sheet design to a fully functional car in just 18 months, according to Mercedes, and was unveiled in January 2022. It showcases a new approach to electric cars for the brand, incorporating innovative battery technology with new design and manufacturing processes, plus the widespread use of sustainable materials.
The EQXX is powered by a newly designed battery, developed in conjunction with the Mercedes-AMG F1 team, with a capacity of just under 100kWh. Compared to the 107.8kWh unit in the Mercedes EQS electric limousine, the EQXX's battery takes up 50% less volume and is 30% lighter, weighing in at around 495kg. That suggests it could be used in a compact car the size of Mercedes' A-Class or B-Class hatchbacks.
The EQXX also uses more-than-900v electrical architecture and weighs approximately 1,750kg, compared to the 2.4-2.6-tonnes weight of the EQS. Unlike that car, the EQXX produces a relatively modest 201bhp from a single electric motor that powers the rear wheels only. No performance figures have been announced as of yet, though that's not surprising given the focus on efficiency and range for this car. 
To boost cruising range, the EQXX uses a new electric drive system – also developed in conjunction with the Mercedes F1 team – that boasts 95% efficiency. That means up to 95% of the energy from the battery makes it to the wheels, compared to an equivalent figure of only around 30% for a combustion-engined car.
Joerg Bartels, Mercedes' vice-president for vehicle engineering, said of the EQXX: "Electric range sounds easy but is a complex technical challenge. The easiest way is to put a bigger battery in the car. However, this leads to diminishing returns due to size and weight.
"This is definitely not the smartest route and it's also not the best use of scarce resources. With the EQXX, we're presenting the results of an extraordinary challenge: we pushed efficiency to a totally new level. And we explored new ways to increase the range of an electric car."
As previously mentioned, aerodynamics have also helped the EQXX achieve its range and efficiency figures. For example, the car's shape is heavily tapered towards the rear like a teardrop, and it features an elongated tail and extendable diffuser to reduce air resistance. Meanwhile, an 'air curtain' in the front bumper reduces turbulence as air passes over the front wheels. The result of all this is a very low drag coefficient number of just 0.17Cd.
The EQXX also features lightweight aluminium brake discs and 20-inch magnesium alloy wheels wrapped in ultra-low-resistance tyres, as well as slim roof-mounted solar panels that can add up to 15 miles of extra range. 
Inside, the EQXX uses a variety of repurposed and plant-based materials, including recycled plastic bottles that make up the door and floor trim, as well as cactus-based upholstery and carpets made from bamboo fibres. The infotainment setup comprises a single, seamless, 47.5-inch 8K display that spans the entire width of the car's dashboard. It features an avatar personal assistant that functions as a 'road-trip sidekick' and real-time 3D navigation that uses satellite data. The system can also make suggestions on how to drive more efficiently. 
Mercedes is currently launching one new electric model after another. In 2021, it unveiled the EQS flagship electric limousine, along with a high-performance AMG variant making up to 751bhp, plus an electric G-Class concept, the EQE saloon and the EQB seven-seat SUV, which sits in between the EQA and EQC in the brand's zero-emissions range. In 2022 it'll launch the EQS and EQE SUVs, as well as an AMG version of the EQE saloon.
Where can I buy hydrogen and where is my nearest hydrogen filling station?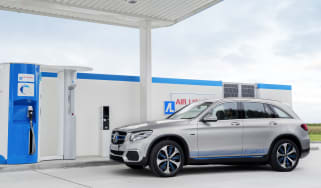 Where can I buy hydrogen and where is my nearest hydrogen filling station?
A guide to where you can find UK hydrogen fuel stations for filling up a hydrogen fuel-cell car
Tesla Supercharger network: complete guide to Tesla charging stations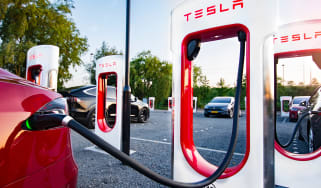 Tesla Supercharger network: complete guide to Tesla charging stations
The Tesla Supercharger network is expanding fast, providing reliable rapid charging throughout the UK to Tesla and non-Tesla owners alike
Top 10 best electric SUVs 2022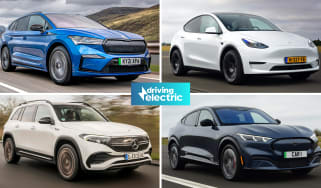 Top 10 best electric SUVs 2022
Electric SUVs combine style and practicality with low running costs, making them a very popular choice in the UK. Here are our top 10 favourites to bu…