Lotus prepares to focus solely on electric cars
The British brand will make one more petrol model before switching to a range of fully electric sports cars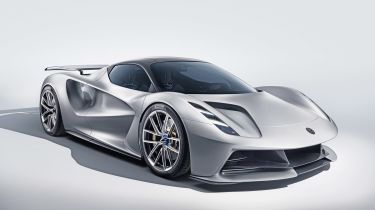 Norfolk-based sports-car manufacturer Lotus is preparing for a shock ditching of internal-combustion power in favour of pure-electric drive in all of its models.
Speaking exclusively to DrivingElectric's sister title Auto Express, Lotus CEO Phil Popham suggested that the brand won't bother with a more gradual electrification switch via hybrids, instead using its forthcoming Evija electric hypercar as a precedent. "One thing we do believe in is the future of battery electric vehicles, and our intention is to offer BEV on our products in future," he said.
"BEV is really well suited to sports cars – the torque characteristics, the weight distribution, design and flexibility of dynamics. For me, it all leads to BEV as the ultimate technology for sports cars."
In explaining Lotus' avoidance of hybrid technology in future, Popham explained that it doesn't quite match up with Lotus' famous philosophy of lightness: "One of the challenges of a hybrid is you carry a small engine as well as batteries and electric motors, which goes against the philosophy of sports cars, which have a tight package.
"You want to minimise weight and maximise performance and spread weight in the right places to get the right dynamics. So hybrids do present a challenge."
Electric cars aren't exactly renowned for being featherweight, but Popham suggested that greater freedoms with weight distribution are key. "Batteries are flexible; you aren't trying to build a car around some big componentry such as gearboxes and engines, so that gives you some flexibility," he said.
This new direction is backed financially by Lotus' parent company Geely, which bought the brand in 2017. Popham suggested that "the money that's going into product development is something we could never, ever afford to do on our own if we hadn't got the ambitious owner that we have."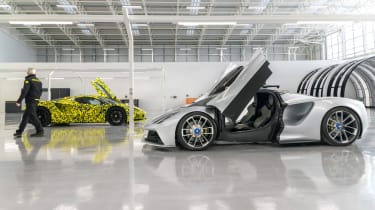 The next electric Lotus sports car
It has been suggested that a new Lotus sports car could be on the cards; it's expected to arrive by the end of 2022 and should occupy a much more attainable price bracket than the £2.4 million Evija. A price of around £45,000 to £85,000 is likely, putting it against a number of prestigious rivals.
Once a baseline range of electric sports cars has been established, Lotus could well expand to take on the likes of Porsche with more practical models like saloons and, maybe, SUVs.
"We're not focusing on SUVs at the moment, but we're not discounting any segment: crossovers, sporting sedans, GTs," Popham said. "But what we have to do is say what makes it distinctly a Lotus."
While Lotus' Geely connections bode well for access to platforms to base these new models on, Popham stresses that whatever happens, any Lotus must live up to the brand and what it stands for. 
"How can we illustrate what we're focused on, what we're famous for: aerodynamics, performance, light weight? How can it be a Lotus in the segment in which it competes?" 
Perhaps most encouragingly for fans of the brand, Popham said that the new cars should not be created by "just crafting a car and sticking a badge on it to make money". 
The brand's electrified aspirations remain a few years away from being made reality. In the meantime, however, Lotus is approaching the end of development of what could well be its final new combustion-engined car, due to be revealed in 2021; what comes thereafter could well be far more exciting.
Volkswagen ID.1 on the way as Polo-sized entry-level electric car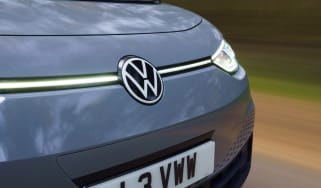 Volkswagen ID.1 on the way as Polo-sized entry-level electric car
Volkswagen is working on a small electric car based on its MEB platform; Cupra and SEAT models also on the cards
New 2021 Honda HR-V hybrid SUV revealed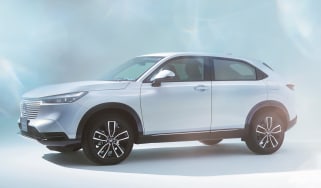 New 2021 Honda HR-V hybrid SUV revealed
Next-generation Honda HR-V will go on sale later in 2021 with pure-hybrid power only
Best plug-in hybrid cars 2021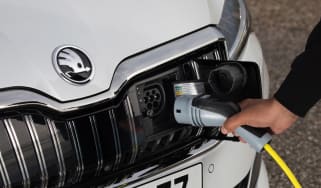 Best plug-in hybrid cars 2021
The best plug-in hybrid cars offer great fuel economy and very low running costs as long as you keep their batteries charged