Lexus RC 300h (2014-2020) running costs
Yes, the Lexus RC 300h is a hybrid, but its economy and emissions are nothing to write home about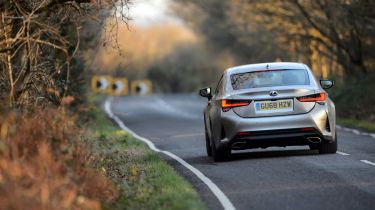 | Insurance group | Warranty | Service intervals | 2019/20 company-car tax cost (20%/40%) |
| --- | --- | --- | --- |
| 31-32 | 3yrs / 60,000 miles | 1yr / 10,000 miles | From £2,079 / £4,157 |
Just one version of the RC 300h comes in under £40,000, but that puts it on a par with rivals such as the Audi A5, BMW 4 Series and Mercedes C-Class – although it's worth noting that none of those ranges include any hybrid models.
On the face of it, economy of up to 46mpg and CO2 emissions of 114g/km don't look that great, even when compared to diesel-engined rivals. They don't entitle the car to exemption from the London Congestion Charge, for example. But the RC doesn't incur the same BiK company-car tax surcharge that diesel rivals do
If fuel economy is your number-one priority, bear in mind that hybrids are very sensitive to how and where they're driven. They're at their best around town, where they can run on electric power for much of the time, but on longer runs beyond the city limits – especially on the motorway – they won't even get close to the official economy figures. That's almost exactly the opposite to diesel-engined rivals, so if you're going to spend most of your time on the motorways, a hybrid like the RC 300h may well not be the best choice.
Lexus RC insurance group
Depending on which trim you choose, your RC will sit in insurance group 31 or 32. That's considerably lower than the other, more powerful petrol-engined RC models, but very much on a par with the comparable (but non-hybrid) models from Audi, BMW and Mercedes.
Warranty
The RC gets a three-year/60,000 mile warranty, and none of its rivals get longer cover, although in some cases (as with BMW and Mercedes), there's limit on the mileage.
In addition, the hybrid components are covered for up to five years, and you can extend the standard warranty for an additional fee. This extended warranty will cover a Lexus up to 10 years old and with 140,000 miles.
Servicing
There are currently just under 50 Lexus dealers, and an RC needs their attention every 10,000 miles. An 'intermediate service', which costs £300, is needed at 10,000 miles and every 20,000 miles after that. However, at 20,000 miles and then at 20,000-mile intervals, the car has to have what Lexus calls a 'Full' service and which costs around £600.
Road tax
After the initial CO2-weighted payment, the most basic RC models will cost £135 per year. However, if you buy a model that costs more than £40,000 – which most of them do, including the basic model if you add a few options – you'll also have to pay the £320 surcharge, meaning an annual bill of £455.