Lexus RC 300h (2014-2020) engines, drive & performance
The Lexus RC 300h is a heavy car - and it shows. It's not as quick or as agile as its rivals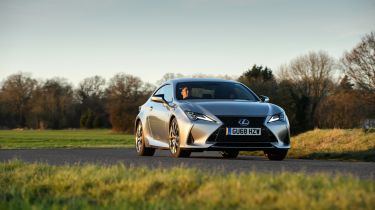 | 0-62mph | Top speed | Driven wheels | Power |
| --- | --- | --- | --- |
| 8.6s | 118mph | Rear | 220bhp |
The sad truth is that the h in the RC 300h's name might as well stand for 'heavy'. It weighs almost 1.8 tonnes and that has an effect on both its performance and its handling. It doesn't do much for its economy, either.
You might expect the combination of a 2.5-litre engine with an electric motor to make for a quick car, but it struggles against the car's weight. A 0-62mph time of 8.6 seconds is nothing like as quick as those racy looks might suggest.
That weight also counts against the RC's abilities as a sports car. It's a fair bit heavier than its most obvious rivals, so it simply doesn't feel as agile or as light on its feet as something like a BMW 4 Series. Instead, the RC is at its best if you treat it more as a grand tourer.
Lexus RC hybrid engine, 0-62mph and acceleration
You'd expect that adding an electric motor to an engine that already has 179bhp would make for some pretty decent performance figures. But, the vital statistic that matters most is the car's weight - almost 1,800kg.
That means this coupe actually weighs almost as much as a luxury car like the BMW 7 Series, which explains its relatively leisurely performance. It's capable of hitting 62mph from rest in 8.6 seconds, but that's nothing to write home about. A BMW 420d, for example, has only marginally more power, but manages the same sprint in just 7.4 seconds. The crucial difference is that the BMW is about 200kg lighter.
To make matters worse, the RC 300h uses a frustrating CVT automatic gearbox. While it's not too bad if you're ambling around town, it's far too eager to send the engine's revs soaring into a noisy drone if you ask for anything approaching full acceleration. Admittedly, the car's most obvious rivals aren't hybrids, but they're more responsive and smoother to drive in everyday situations.
Handling
The RC is based on the Lexus IS saloon, and the theory is that it should provide a sportier experience from behind the wheel. And, fair enough, it does – but only a little…
That's thanks to suspension that's a little firmer than the saloon. It gives reasonably direct steering, but the odd thing is that that doesn't translate into a firm ride. On the contrary, the RC makes a great cruiser, smothering most bumps and ruts in the road very effectively – particularly in the F Sport version, which is fitted with adaptive suspension. Once you're up at a steady cruise, it's also every bit as refined as you would expect of a Lexus, with very little wind or road noise.
What it doesn't make is a great sporting car. A facelift in 2019 introduced steering and suspension tweaks that have made the RC slightly keener when cornering, but you're still very aware of the weight shifting around and the obvious body roll. The RC simply doesn't have the same composure as its coupe (albeit non-hybrid) rivals and the controls also don't have much in the way of feel.