Lexus RC 300h (2014-2020) MPG & CO2 emissions
The Lexus RC 300h is a 'self-charging' hybrid, so there's no need to plug it in. But its economy and emissions figures are nothing special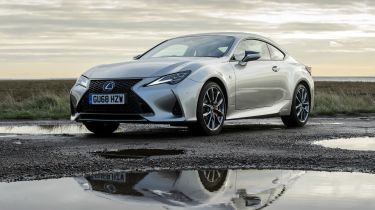 | MPG (combined) | MPG (high) | MPG (low) | CO2 |
| --- | --- | --- | --- |
| 44-46mpg | N/a | N/a | 141-146g/km |
Lexus hasn't had any diesel engines in its line-up for quite some time now. As a result, its most economical models are its hybrid cars, which are what the company calls "self-charging hybrids".
That means that, while they combine a petrol engine with a battery-driven electric motor, the battery is quite small. So, the car can't go all that far on electric power – certainly not as far as a plug-in hybrid – and its overall economy isn't that great.
As with all self-charging hybrids, the RC's range on electric power alone is minimal – only a mile or so. It comes into its around town, where it crawls through traffic without any need to enlist the help of the 2.5-litre four-cylinder petrol engine. And, at the press of a button, you can engage EV mode, which means the car will run on electric power as much as it can.
All the time the car is running, any excess power from the engine is used to charge up the batteries. Likewise, when the car is slowing down, the regenerative brakes convert the lost energy into charge in the battery.
Lexus RC MPG & CO2 emissions
Lexus claims the RC 300h will achieve up to 46mpg, emitting 141g/km of CO2 – not bad for a car of this size and weight. However, while there are no hybrid models in the line-ups of rivals such as the Audi A5, BMW 4 Series and Mercedes C-Class Coupe, it's worth noting that several of the diesel-engined versions can match – and, in some cases, beat – the RC for economy.
You'll get the best economy out of an RC 300h if you spend much of your time on short journeys or around town. If your motoring diet consists more of long-distance motorway runs, a rival with a diesel engine (which Lexus doesn't offer) may give you better economy in the (every pun intended) long run.