Lexus RC 300h (2014-2020) practicality & boot space
With cramped rear seats and a relatively small boot, the Lexus RC 300h is not the most practical coupe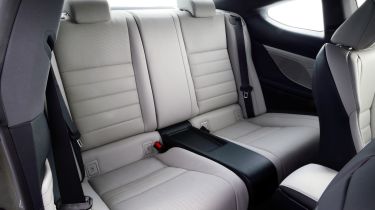 | Length | Width | Height | Boot volume (seats up) |
| --- | --- | --- | --- |
| 4,695mm | 2,069mm | 1,395mm | 340 litres |
The Lexus RC really is a car of two halves. Despite all the space and comfort on offer for anyone in the front seats, there's precious little of either in the back. As a result, those rear seats are a kids-only zone.
To make matters worse, the boot is a fair bit smaller than you'll find in any of its most direct rivals. And, it's pretty awkward to load and unload. Suffice to say, if you buy an RC, you'll have to get used to packing light, or use the rear seats for storage and treat the car as a two-seater.
Lexus RC 300h interior space, storage & comfort
If you're in a Lexus RC 300h, you'd best hope you're in the front. Here, there's lots of space for the driver and passenger, as well as a wide range of adjustment on the superbly comfortable seats, so that you can find the position that's best for you.
By complete contrast, the RC's tiny back seats aren't much use at all. It's tricky just to get there past front seats that only slide electronically out of the way slowly. And, once you're in the back, you'll find both leg- and, particularly, headroom are tight. It might be ok for children back there on a short journey, but that's it. Few adults would be able to bear it for long.
Boot space
Again, the RC300h isn't the most practical of cars - even by the standards of coupes. Its boot offers a capacity of just 340 litres, thanks to the space that has to be given over to the hybrid system's batteries. That mean it's smaller than in rival coupes, such as the petrol and diesel-only Audi A5, BMW 4 Series and Mercedes C-Class, which offer 400-plus litres of boot space.
To make matters worse, the high lip and narrow opening make it awkward to load and unload the boot. At least, if you do need more luggage capacity and don't have any passengers in the back, you can expand that space thanks to the 60/40 split/folding rear seats that are standard across the range.