Kia XCeed PHEV review
The Kia XCeed hybrid isn't sporty or satisfying to drive, but its mix of quality, style and affordable running costs mean it still has plenty of appeal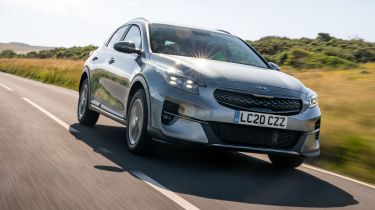 Pros
Stylish looks
Good electric range
Nice interior and infotainment
Cons
Feels a bit sluggish
Batteries hit practicality
More expensive than petrol
| Car type | Electric range | Fuel economy | CO2 emissions |
| --- | --- | --- | --- |
| Plug-in hybrid | 36 miles | 168-202mpg | 32g/km |
Kia was one of the first manufacturers to go big on plug-in hybrid (PHEV) technology, with its Niro PHEV SUV and now-discontinued Optima PHEV estate. While those cars faced a limited field of competitors, more brands are entering the fray of late. This XCeed PHEV – a stylish-looking crossover – faces the Renault Captur E-TECH, Hyundai Ioniq Plug-In, Ford Kuga Plug-In, Skoda Octavia iV and Volkswagen Golf GTE.
Although no longer eligible for a plug-in car grant from the government, plug-in hybrids continue to be an attractive financial proposition thanks to the potential for zero-emissions electric running (up to 36 miles in the XCeed's case) and low Benefit-in-Kind company-car tax (11% during the 2021-22 financial year).
The XCeed PHEV's powertrain is familiar from other plug-in Kias: a 1.6-litre turbocharged petrol engine making 105hp, paired with an electric motor making 60bhp, for a total power combined output of 139bhp, delivered through a six-speed automatic gearbox. The battery is the same 8.9kWh unit seen in the Niro PHEV, but as the XCeed is lighter and more aerodynamic, it betters that car's 30-mile pure-electric range.
It follows, then, that using the same powertrain as other plug-in Kias means the XCeed PHEV is subject to many of the same compromises as those cars: namely, it's heavier (by 115kg), has less luggage space (135 litres less, to be precise) and is more expensive than a comparable turbocharged petrol XCeed.
And unlike some plug-in hybrids, the XCeed PHEV isn't exactly overburdened with power, feeling a bit sluggish under acceleration and when overtaking, which contradicts the model's supposedly youthful and sporty character. Sport mode does improve things a little, but at the cost of some ride comfort.
However, if you prefer to just drive from A to B sedately rather than pushing the car's handling limits on every journey, you probably won't be too bothered by such shortcomings, and happy to enjoy the running-costs savings the XCeed's powertrain brings.
So, while the XCeed hybrid's driving experience may disappoint some – and even send them in the direction of rival models – this is still a good looking, good value and cheap-to-run small family SUV that will tick a lot of boxes for many. For a more detailed look at the XCeed PHEV, read on for the rest of our in-depth review...