Kia XCeed PHEV range, MPG, CO2 & charging
The XCeed hybrid has decent official electric range and returns strong fuel economy in real-world driving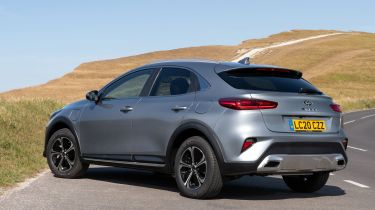 | Fuel economy | CO2 emissions | Electric range | Wallbox charge time |
| --- | --- | --- | --- |
| 168-202mpg | 32g/km | 36 miles | 2hrs 15mins (0-100%, 3.3kW) |
The quirks of the official fuel-economy testing regime serve to flatter plug-in hybrid cars immensely; particularly the assumption that you'll be starting every journey with a 100% charged battery. But while the lofty heights of 200mpg may not quite be achievable in the real world, the XCeed PHEV is still a very efficient car, and one that gets pretty close to its claimed 36-mile pure-electric range on a regular basis.
Kia XCeed PHEV range, MPG & CO2 emissions
Kia's plug-in hybrid system has been refined over the years and works flawlessly; you should easily see over 30 miles of electric running even with a mix of road types, weather conditions and driving styles thrown in. 
We got pretty close to this during our time with the car; the petrol engine only kicked in when we forced it to on a 30-mile driving route covering a mix of different road types. You can stretch out the battery's energy using clever functions such as the 'Driver Only' button, which shuts down all the air vents bar the ones around the driver to save power if you're travelling alone.
Whether you ever top 200mpg fuel economy, as official testing maintains is possible, is another matter, but the indicated miles-per-gallon on the dashboard readout broke into three figures several times during our time with the car, so this is definitely an efficient way of getting around by most measures. CO2 emissions are typically low for a plug-in, at 32g/km.
Charge time
The fastest you'll be able to charge the Kia XCeed hybrid's battery is 3.3kW – a speed you'll see from a home wallbox or public charging point. A full top-up will take around two and a quarter hours at that speed, and while using a regular three-pin socket will take longer, you can still be assured of the car being fully charged overnight. As with other Kia plug-in hybrid and electric cars, charging can be programmed to take advantage of cheaper overnight electricity tariffs.