Kia announces first of seven new electric cars due by 2027
New electric coupe-SUV will be the first product from a rejuvenated, pure-electric effort to carry Kia into the electrified age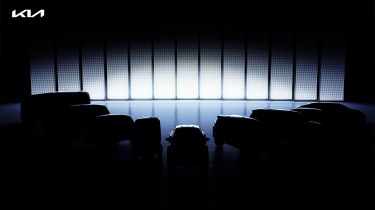 Kia has released further details of its 'Plan S' business strategy, setting out its plans to introduce seven new electric cars to the range by 2027. The new cars will be based on bespoke electric architecture, and are set to be more sustainably manufactured using renewable energy and recycled materials. 
Previously, Kia released a single darkened teaser image along with confirmation of the seven electric models – suggesting a variety of bodystyles – from a Citroen ami-inspired urban electric car to a full-size family SUV. Some newer teaser images have also been released (see above and gallery below), revealing slightly more but still leaving most details hidden in shadow. 
Now, the manufacturer has confirmed that it'll launch the first of these models in spring 2020. The new car will use the brand's all-new E-GMP mechanical platform, boast a claimed 300-mile range and be capable of a full charge in less than 20 minutes, according to Kia. It's claimed that the fastest version of the car will manage 0-62mph in under three seconds, putting on par with rivals from major premium manufacturers.
The new car is expected to show off a design that'll dictate how future electric Kia models will look. Judging by spy shots of a disguised test car spotted in 2020, as well as some new teaser images (below), it's likely that the car will be a coupe-style SUV with cues taken from the Imagine by Kia concept. Previously codenamed 'CV', the car will be sold in "many regions globally" with "the same competitive product quality and eye-catching design as Kia's other vehicles", according to the South Korean manufacturer.
Specific battery and motor details haven't been revealed, but Kia did state previously that it plans to offer two different types of electric car, with different charging capabilities. This will allow for variations in performance, speed and price – to "meet the diverse needs of customers," Kia claims.
The news comes as Kia seems set on adjusting its image for 2021, with a brand new logo replacing the familiar oval. Kia has also removed 'Motors' from its official name, along with some changes to its slogan. All of this suggests an attempt to move its models upmarket and attract more customers. 
The manufacturer previously emphasised that battery electric models will cover the brand's entire line-up – including "passenger vehicles, SUVs and MPVs" from 2022. It has also suggested the brand's SUV range, with the help of new Sportage and Sorento models, is set to take an even greater share of the mix.
Last year, Kia confirmed that 6% of cars it sold in the first quarter of 2020 were zero-emission electric vehicles – a 75% increase on the same period in 2019. Kia will invest just over £19 billion under its Plan S strategy, targeting 500,000 electric-car sales per year by 2026.
In addition to the firm's dedicated electric cars, Kia will continue to offer electric derivatives of its petrol and diesel cars. It'll "nurture" key markets as it looks to achieve a 20% electric, 80% internal-combustion sales mix and expects electric cars to be as profitable as petrol and diesel ones by 2025. 
Elsewhere, Kia's 'Plan S' covers electric vehicle-based "mobility solutions", which it claims will help solve global issues such as urban pollution.  These will include car-sharing, autonomous technology, and e-commerce businesses, as well as mobility hubs in cities with stricter environmental regulations.
In the most recent update, Kia stated that it also plans to offer purpose-built vehicles for corporate customers, in response to what it forecasts as a large demand increase by 2030. A 'skateboard' chassis will form the basis, allowing for interchangeable modular bodies to fitted to suit customer needs – think last-mile deliveries, car-sharing and so on. 
Long-term, Kia will look to launch "self-driving robotaxis" and "on-demand roboshuttles" around the aforementioned mobility hubs. They'll also house charging points, vehicle maintenance centres and other "convenience facilities". In its latest announcement.
As proof of its commitment to electromobility, Kia has invested in Rimac Automobili and the IONITY rapid-charging network. The latter, Kia says, will "pave the way for advancing Kia's business of high-speed recharging infrastructure development in Europe and other major countries".
Volkswagen ID.3 facelift due in spring 2023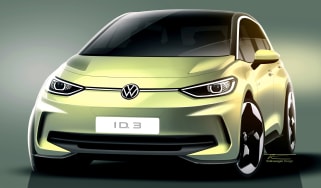 Volkswagen ID.3 facelift due in spring 2023
New sketches provide a glimpse at refreshed styling and cabin of Volkswagen's electric family hatchback
New Vauxhall Astra Electric hatchback and estate unveiled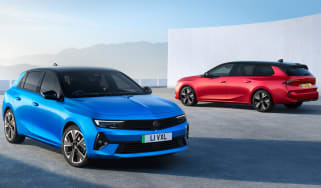 New Vauxhall Astra Electric hatchback and estate unveiled
The new Astra Electric and Astra Sport Tourer Electric go on sale in early 2023, with prices expected to start from between £35,000 and £40,000