Jaguar E-Pace hybrid review
Plug-in hybrid technology has been fitted to Jaguar's smallest SUV for the first time, but the result is a bit of a mixed bag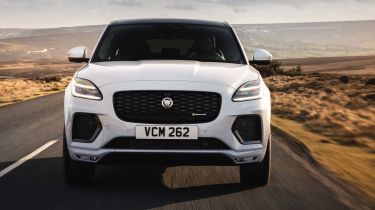 Pros
Quiet and refined
Fast and good fun
Standard rapid charging
Cons
Only available on top trims
Compromised boot space
Engine can feel strained
| Car type | Electric range | Fuel economy | CO2 emissions |
| --- | --- | --- | --- |
| Plug-in hybrid | 34 miles | 141mpg | 44g/km |
Jaguar is on an electrification mission. But before the maker dives head-first into its fully electric future, a range of plug-in hybrid SUVs should help satisfy business users looking for a cheap-to-run family car with rock-bottom running costs. Among these new models is the Jaguar E-Pace P300e; a car that looks distinctly familiar on the surface, but presents myriad changes under the skin. It's now based on the same mechanical platform as the Range Rover Evoque – lifting that car's hybrid powertrain in the process.
That means – unlike the more powerful and more expensive F-Pace hybrid – the E-Pace uses a 1.5-litre three-cylinder petrol engine (the F-Pace gets a 2.0-litre four-cylinder) mated to an electric motor for a combined output of 305bhp. Every E-Pace hybrid gets Jaguar's all-wheel-drive system. That setup means the E-Pace P300e emits just 44g/km of CO2, and Jaguar claims up to 34 miles on electric power alone is possible. Official fuel economy stands at 141mpg, though you'll need regular access to a charging socket to get anywhere near that figure.
Speaking of plugs, the Jaguar E-Pace – along with its F-Pace sibling and the Evoque hybrid – all come with rapid charging. This is a technology usually reserved for pure-electric vehicles and isn't common on plug-in hybrids like these; the 32kW maximum charge speed allows for a 0-80% top-up in just 30 minutes from a suitable public point.
Most buyers are likely to recharge their E-Pace at home, however. Doing so from a 7kW wallbox will take just under 90 minutes, with a slower three-pin plug taking around five hours. Buyers looking to charge this way will need to cough up £300 for the relevant cable, however.
On the road, there's no doubt the P300e stays true to Jaguar's heritage; the E-Pace is among the sharpest cars in its class to drive. Part of this is due to its direct steering, but also the firm suspension limits body lean making it feel more secure when cornering.
The tradeoff is a stiff ride – a factor only emphasised by this car's short wheelbase. The E-Pace can feel quite jittery at lower speeds, in fact, and while it does improve the faster you go, the SUV never truly settles. Pleasingly, while it does have a tendency to fidget, the E-Pace rarely crashes through potholes, with sharper bumps rounded off nicely by the car's accomplished dampers.
As mentioned, the P300e has a three-cylinder turbocharged engine, which by all accounts isn't as smooth or refined as the four-cylinder in the F-Pace. If the prospect of low fuel bills doesn't encourage regular charging, thrashing the dinky petrol engine might; despite feeling fast, it can seem strained at higher revs.
But keep the car in electric mode and it's as quiet and polished as any battery-electric vehicle we've tried. Using this setting, the E-Pace will prioritise battery power, offering up enough punch to go about your daily duties. The disadvantage is a short delay when you do request full power and ask the petrol motor for a boost; it's easy to catch the engine napping.
In addition to 'EV', you can toggle the E-Pace through Hybrid and Save modes, with the former blending use of the engine and electric motor as the car sees fit. Save holds the battery's state of charge for use later in your journey. The usual Eco, Comfort and Dynamic modes also apply.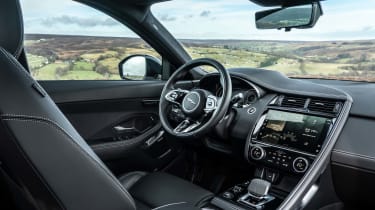 Given how much is new under the metal, it would've been remiss for Jaguar not to update the E-Pace's interior. This is where the small SUV arguably makes the biggest strides – the new Pivi Pro infotainment system is infinitely more responsive than the old setup, plus Apple CarPlay and Android Auto are standard across the range. Furthermore, where the F-Pace's display sits proud of the console, the E-Pace's screen is set into the dashboard.
Quality elsewhere is really very good, and easily on par with models like the Mercedes GLA 250 e or BMW X1 xDrive25e. It's a shame, therefore, that the Jaguar's German rivals undercut it by several thousand pounds; the E-Pace is currently only available in flashy R-Dynamic trim. Within this, you can option the E-Pace is S, SE or HSE guise, with the cheapest R-Dynamic S boasting LED lights front and rear, 18-inch wheels, 12-way power-adjustable and heated leather seats, that Pivi Pro infotainment display and a host of driving assistance systems.
Upgrade to the R-Dynamic SE and you'll add larger 19-inch wheels, different headlights with automatic high beams, an automatic tailgate and a set of digital dials. Flagship R-Dynamic HSE brings 20-inch wheels, keyless entry, better seats and a Meridian sound system. No matter which you go for, every version is subject to the higher-rate road tax applicable to all cars costing more than £40,000.
One final point of mention is practicality. While it's common for cars of this type to sacrifice some boot space, the E-Pace hybrid's high lip means its boot is quite a bit smaller than the standard car's. There's some underfloor storage, allowing you to keep the single charge cable separate from any shopping or luggage. Space in the rear seats isn't as generous as some rivals, either.