MG 5 vs Volkswagen ID.3: running costs and warranty
While both cars are relatively cheap to run, the Volkswagen edges ahead thanks to its lower insurance rating and superior efficiency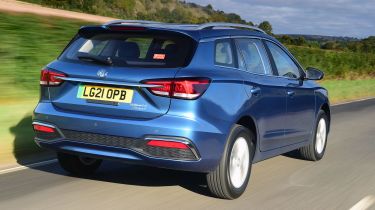 At the time of writing, only one version of the ID.3 is available to order as a result of the global semiconductor chip shortage. That particular model is the ID.3 Life Pro Performance, which gets more power than the car we tested, as well as a higher starting price of £35,835.
The less potent ID.3 Life Pro we tested came in at just £32,200, but that still makes it too expensive to be eligible for the government's plug-in car grant. The MG 5 range, on the other hand, starts from £28,195 after the grant has been deducted, rising to £30,495 for our higher-spec Exclusive trim model.
The MG 5 is covered by an impressive seven-year/80,000-mile warranty, in contrast to the ID.3's just three years of cover. At least the Volkswagen's battery is protected for eight years or 100,000 miles of driving, whichever comes first. The ID.3 is also cheaper to insure, with the model we tested falling into insurance group 18, compared to the MG 5's group 27 rating.
The VW was the more efficient of the two as well; its 4.4 miles per kWH figure meant a real-world range of 252 miles – only eight less than the official claim. Charge up the ID.3 at home on an energy tariff of 19p per kWh and you'll pay £875 to cover 20,000 miles. 
Meanwhile, the MG returned 3.8 miles per kWh, which equates to a real-world range of 232 miles and a cost of £1,001 for 20,000 miles of home charging on the same tariff. Of course, cost estimates for both cars will be higher if you rely on public charging networks, or use rapid chargers to complete longer journeys.
Zero CO2 emissions mean ultra-low company-car costs for both. A 20% taxpayer can expect annual Benefit-in-Kind (BiK) deductions of just £128 in the current financial year for the MG, with the VW costing one pound more to run. Both are also zero-rated for road tax, as well as exempt from the London Congestion Charge and other clean-air zone fees, for the time being.