MG 5 vs Volkswagen ID.3: interior and infotainment
The ID.3's cabin may look more modern, but the interior quality shows clear signs of cost-cutting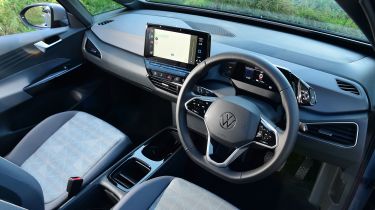 The design of the MG 5's cabin is rather unremarkable to say the least. The layout is neat and functional, but a little dated by the standards of most new cars, let alone the ID.3's contemporary finish. Instead of a crisp digital driver's display, the MG makes do with a pair of analogue clocks split by a small LCD screen providing the standard trip info. Meanwhile, the central eight-inch touchscreen works well, even if it can be slow to respond.
It's therefore no surprise that the facelifted MG 5 set to arrive later this year ditches the analogue instrument cluster in favour of a fully digital driver's display, like the one you'll find in the latest ZS EV. It also gets a larger 10.25-inch central touchscreen.
The ID.3, on the other hand, looks far more modern inside, and like a lot of EVs has taken a very minimalist approach to its cabin design. It all seems crisp and modern from a distance or on a screen, but once you're inside, it's clear that the interior is where VW cut corners to keep the ID.3's price down. The material quality is a letdown and the plastics look cheap.
Plus, some of those contemporary aesthetic choices hinder the VW's functionality. A lot has been said about the ID.3's infotainment at this point, especially the infuriating touch-sensitive controls. For example, the temperature and media volume adjusters are located just beneath the touchscreen, exactly where you'd wish to steady your hand while using the screen, so you find yourself accidentally pressing them. Worse still, these important controls aren't backlit, so you can't see how to adjust the temperature at night.
The infotainment system also isn't the slickest we've experienced, but at least ID.3 has a fully digital driver's display. It's small compared with similar systems, at 5.3 inches, but it offers all the useful information that you need. It adjusts with the steering wheel, too, so it's always perfectly positioned.