MG 5 vs Volkswagen ID.3: performance and handling
Both cars offer decent performance and ride comfort that make them perfectly suited to family-car duties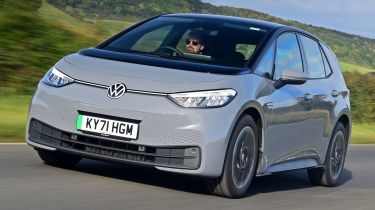 One of the most remarkable things about the ID.3 is, ironically, just how unremarkable it feels to drive. The weighting and responses of all the controls feel near-identical to those of a petrol or diesel Golf, despite the completely different powertrain, which should reassure any loyal VW buyers making the switch to electric. 
On the road, the ID.3 feels more stable and relaxing than the 5 thanks to more sophisticated body control, but its 18-inch wheels – two inches larger than the MG's – do cause subtle differences in ride comfort. At lower speeds, the VW tends to thump into potholes and larger imperfections slightly more – although still not harshly – and the tyres generate a slightly bassier rumble. But at higher speeds, the ID.3 has the edge in terms of comfort.
The VW is also more measured through the corners. Its sense of stability is paired with very little steering feedback, meaning it'd be a stretch to call it fun, but the ID.3 is a very competent EV and certainly inspires more confidence than the MG. 
The ID.3 isn't as quick as the MG 5, though. With the rear-drive hatchback's single electric motor producing 143bhp and 310Nm of torque, it takes 9.6 seconds to accelerate to 62mph from a standstill. Perfectly adequate for family-car duties, but 2.3 seconds slower than the MG can do the same sprint, with its 154bhp and 260Nm electric motor powering the front wheels.
With its fairly understated looks, the MG 5 isn't the car you'd expect to be capable of outsprinting others away from a set of lights. But thanks to that instant burst of torque from the electric motor and being front-wheel drive, the MG can even spin its front tyres should you be a little too heavy with the accelerator.
Otherwise, the modest 16-inch wheels on the MG mean that, at low speeds in particular, it's the more relaxing and comfortable car to drive, helped by light steering. The driving position is quite high, even in its lowest setting, so taller drivers might feel a little perched up when they try to find their ideal position.
Head out of town and the MG doesn't feel quite as sophisticated as the VW. This is most obvious over big bumps, where it gets thrown about more than its rival. The chassis feels more nose-heavy in corners and grip is slightly lower, too. Still, driven at a relaxed pace, the MG 5 is more than good enough.