MG 5 vs Volkswagen ID.3: space and practicality
The MG 5 may have more boot space than its VW rival, but not enough to earn the title of a proper family wagon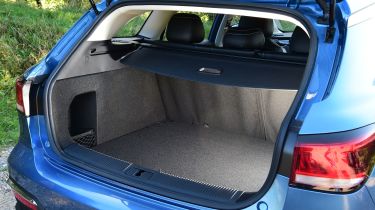 While the MG 5 has significantly more boot space than the ID.3 – 464 litres versus the VW's 385, to be exact – it's not as much as some might expect. Some similarly sized combustion-engined estate cars have much higher load capacities. That includes the plug-in hybrid Peugeot 308 SW and Vauxhall Astra Sports Tourer, with their 548 litres of space, while the Volkswagen Golf Estate breaks the 600-litre mark. 
That's down to the MG 5 being relatively short for an estate car, although at 4,544mm, it's still 283mm longer than its hatchback rival here. There are other compromises, too, such as a high load lip that leaves a step down to the boot floor, while the rear seats don't fold anywhere near flat.
Do so and the total volume climbs to 1,456 litres, which again is 189 litres more than in the ID.3, but we still think it's best to view the MG 5 as a very roomy hatchback, rather than a fully fledged wagon. There's no dedicated storage for the charging cable, either, so it has to sit in the boot along with anything else you need to carry.
The ID.3 makes up for its smaller luggage capacity with clever interior packaging. Rear kneeroom in particular is excellent here; there's roughly 50mm more than in the MG. In fact, in this respect the VW is among the best of any car with a similar footprint, regardless of powertrain. There's more space for feet under the front seats, too, while there's very little between the two in terms of headroom.
Both cars have fairly wide middle seats, and both have ISOFIX points that are easy to reach, although the plastic housings of the VW's are a neater solution and less likely to damage the surrounding seat upholstery. The ID.3 also benefits from a third pair of mounts on the front passenger seat.
A tall console between the front chairs has two deep storage bins and a couple of cup-holders, which, combined with generous door bins, make the VW much better than the MG for cabin storage.
Meanwhile, in the MG, front-seat occupants sit high, and those in the back will feel even more perched. There's enough headroom all round, though, and children benefit from a decent view out. The floor is quite flat, too, but there's little space to tuck your feet under the front seats.