Honda NSX (2016-2022) running costs, insurance, warranty & tax
The Honda NSX should cost much the same to run as most other cars capable of equivalent performance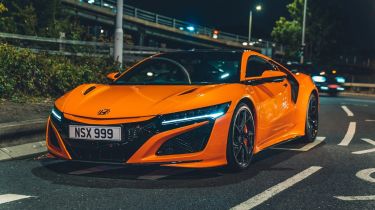 | Insurance group | Warranty | Service intervals | 2021/22 company-car tax cost (20%/40%) |
| --- | --- | --- | --- |
| 50 | 3yrs/60,000 miles | Variable | From £12,442/£21,885 |
While the Honda NSX is a hybrid, it's also a sports car (or many would argue a supercar), and running it will be just as expensive as most other cars of this ilk. Factor in money for tyres (which will need changing more regularly and will be expensive to replace) as well as for tax and insurance.
Honda NSX insurance group
The NSX isn't going to be cheap to insure. It falls into the most expensive insurance group, which you'd expect given the performance. If you're worried about insurance costs, you probably shouldn't be buying a car with nearly 600bhp.
Warranty
The NSX gets a three-year/60,000-mile warranty, which is par for the course for most sports and supercars.
Servicing
The NSX has variable servicing intervals: the car will tell you when it needs some routine maintenance by displaying a message on the dashboard. You can't get the NSX serviced at any Honda dealership – you'll have to take it to one of two specialist NSX dealers in the UK (both in London), but the really good news is that Honda throws in a free three-year service plan.
Road tax
Annual road tax is £145 a year, but because it costs more than £40,000, the NSX also incurs a premium of £335 annually from ownership years two to six, for a total of £480 a year during that time.
Depreciation
The Honda NSX is a rare car, and that tends to keep resale values high. The NSX is so rare, in fact, that there are only a couple of used examples for sale in the entire country. Even so, you can expect to lose a big chunk of money on the NSX – some £20,000 in the first couple of years even if your mileage is low. This is a fairly average rate of depreciation for most of the NSX's rivals, too.