Honda NSX (2016-2022) performance, top speed & engine
The Honda NSX is great fun to drive, but it's not quite as delicate and playful as the best rear-wheel-drive alternatives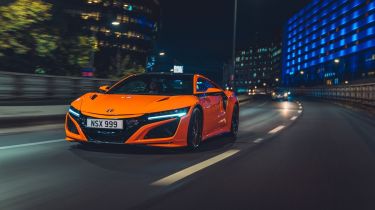 | 0-62mph | Top speed | Driven wheels | Power |
| --- | --- | --- | --- |
| 3.3s | 191mph | Four | 581bhp |
The NSX is explosively fast, and the electric motors deliver even more aggressive acceleration for the first leap away from the line than most conventional petrol rivals can claim.
Honda NSX engine, 0-62mph and top speed
Those electric motors play a huge part in the way the 573bhp NSX gets up the road. There's no momentary lag as the turbos spool up, just an instant slug of electric acceleration off the line (aided further by the four-wheel-drive system) before the Honda really gets into its stride and punches through 62mph in just 3.3 seconds. It feels extremely quick, whether you're doing a standing start or mashing the throttle for a mid-range burst of speed.
Power is transmitted through a nine-speed dual-clutch automatic gearbox operated by steering-wheel-mounted paddles. You can leave it to change gears for you, which a lot of drivers will prefer, since it does a fine job of both blurring changes for smooth, easy progress and snapping into the right ratio when you're driving with more vigour. Plus, with so many ratios, it can feel like you're constantly toggling the paddles when you choose to change gear manually.
As with most modern performance cars, there are driving modes on offer, plus a launch-control system for the fastest possible starts. The NSX can be driven in Quiet, Sport, Sport+ and Track modes, which take it from a refined commuter through to trackday racer, and all the shades of sports-car ferocity you could want in between. It's certainly a sports car that you could live with every day.
Handling
The Honda's four-wheel-drive system gives the NSX impressively secure, grippy handling; you can chuck it through corners in confidence that it's not going to do anything unexpected. Even in track driving, it's fun and un-intimidating.
The steering wheel is small, similar to that of a Ferrari 488, and has been designed to work with small inputs, so it feels precise and very quick to respond, enhancing the overtly sporting feel of the NSX without making it tricky to drive. However, the NSX has to work hard to disguise its weight: it's 80kg heavier than a Mercedes-AMG GT, 170kg heavier than an Audi R8 V10 Plus and more than 400kg heavier than a McLaren 570S.
As a result, some rivals – particularly the rear-wheel-drive 570S – offer more playful handling that purists will appreciate, even as plenty of buyers will favour the fun-but-approachable, more all-weather-appropriate NSX. The brakes offer great stopping power and the pedal feel is good if, again, a bit short of the best out there. You shouldn't add the optional carbon-ceramics unless you plan to take your NSX on a circuit regularly.