Honda NSX (2016-2022) MPG & CO2 emissions
The Honda NSX's fuel economy and CO2 emissions are a bit disappointing given the presence of hybrid technology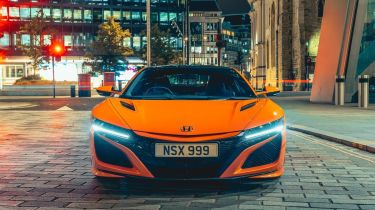 | MPG (combined) | MPG (low) | MPG (high) | CO2 |
| --- | --- | --- | --- |
| 26mpg | 22mpg | 30mpg | 242g/km |
The Honda NSX's official fuel-economy figure of 26mpg (and CO2 emissions of 242g/km) aren't as good as many would hope or expect given the hybrid powertrain. They're roughly on a par, in fact, with non-hybrid rivals such as the McLaren 570S and Porsche 911 Turbo.
The BMW i8 Coupe, meanwhile, doesn't have the same performance as the NSX, so it's a slightly unfair comparison, but many buyers will see them as direct rivals and if it's an efficient super-sports coupe that you're after, then the plug-in hybrid i8 trounces the Honda with a pure-electric range of 23 miles and efficiency figures of 128mpg and 49g/km.
Honda NSX MPG & CO2 emissions
As part of a 'full hybrid' system, the NSX's electric motors seek more to improve the overall efficiency of the petrol engine rather than provide pure-electric running, so while the NSX can run on electricity alone at up to 40mph, it's tricky to do that without waking the engine.
More often than not, you're better off enjoying the electric running at slow speeds around town. More disappointing is that the pure-electric running it does offer, and the added performance afforded by the electric motors, doesn't deliver better economy. With an official figure of 26mpg, the electric motors are clearly there to boost performance (which they most certainly do) rather than to deliver better economy.
As is also clear from the fuel economy on offer, those electric motors are there to make the car fast rather than efficient. CO2 Emissions of 242g/km are actually worse than those of a Porsche 911 Turbo.