Ford Mondeo Hybrid (2014-2022) boot space & seating
Good interior space for passengers, but the Ford Mondeo Hybrid's saloon body has some drawbacks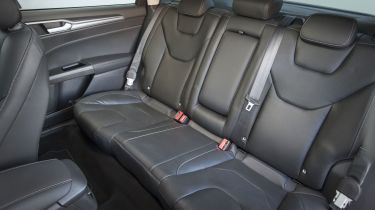 | Length | Width | Height | Boot volume (seats up) |
| --- | --- | --- | --- |
| 4,871mm | 1,852mm | 1,482mm | 383 litres |
As far as passengers are concerned, the Mondeo Hybrid is perfectly spacious. In fact, there's as much room in the Hybrid as there is any Mondeo. There's a good amount of storage space, too, but the batteries for the hybrid system have to go somewhere, and they go at the rear of the car, which eats into boot space. A five-door estate version of the Mondeo Hybrid was added to the line-up in early 2019.
Ford Mondeo Hybrid interior space, storage & comfort
If you're in the front of the Mondeo Hybrid, you simply won't have anything to complain about in terms of the space of offer. There's loads of it, meaning the Mondeo is at least on par with its rivals. On top of that, there's space in the back for two large adults to sit comfortably – and three at a pinch – and there's even plenty of places to stash your odds and ends: the glovebox is a decent size, and there are a pair of cupholders in the front, as well as a tray behind the gearstick.
Boot space
As far as practicality and versatility go, the real fly in the ointment is the boot. The hybrid saloon is less easy to use in everyday life than the petrol and diesel hatchbacks. That's because the rear windscreen doesn't lift when you open the tailgate, and that makes it far more awkward to get things in and out .
To make matters worse, the boot itself is much smaller in the hybrid saloon than in other Mondeos. Due to the amount of room given over to all the components in the hybrid system, the boot space in this version of the Mondeo only adds up to 383 litres. That's far less than the 550 litres you can get in the hatchback, although a little better than you get in a Toyota Prius.