Ford Mondeo Hybrid (2014-2022) MPG & CO2 emissions
The Ford Mondeo Hybrid's economy and emissions are nothing special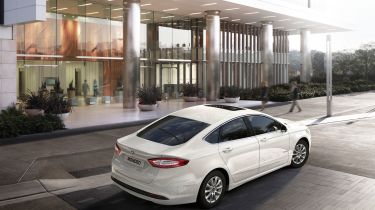 | MPG (combined) | MPG (high) | MPG (low) | CO2 |
| --- | --- | --- | --- |
| 50mpg | 50mpg | 48mpg | 127-131g/km |
There was a time when a family car with CO2 emissions of around 130g/km and fuel economy of around 50mpg would be very impressive – but not now. At a time when the Mondeo Hybrid's rivals are mostly plug-in hybrids and have much lower emissions, the Ford doesn't look that special. If you're a private buyer looking for an economical Mondeo, this isn't that much more frugal in everyday use than a diesel.
Ford Mondeo Hybrid MPG & CO2 emissions
The Mondeo Hybrid came in four trim levels. The Zetec Edition with 17-inch wheels emits the least CO2, at 127g/km, but a Titanium Edition with bigger wheel, as well as the high-spec ST Line and Vignale, emit 131g/km. MPG figures are roughly the same for all variants, hovering around the 50mpg mark in all cases.
That might have been impressive back in the day, but not any more. In fact, if you only take fuel economy into consideration, the Mondeo Hybrid isn't that much better than a diesel.
Almost every diesel-engined Mondeo returned more than 50mpg under the latest tests. And, given that we only saw 43mpg from a Mondeo Hybrid when we tested it, it's not hard to see that a diesel could easily return better economy in the real world.