DS 3 Crossback E-TENSE costs, insurance, warranty & tax
Electric cars like the DS 3 Crossback E-TENSE by their nature cost mere pennies to run – but beware, insurance could be more expensive than for the petrol version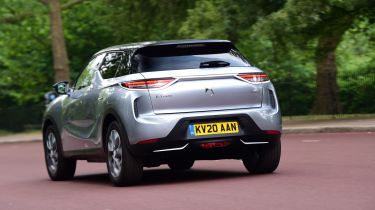 | Insurance group | Warranty | Service interval | 2021/22 company-car tax cost (20%/40%) |
| --- | --- | --- | --- |
| 35-38 | 3yrs / 60,000 miles | TBC | From £68 / £136 |
By avoiding the cost of petrol or diesel, chances are you'll save money by running an electric car like the DS 3 Crossback E-TENSE. However, charging is just one area of electric-car ownership – just like a petrol or diesel model, there are other things to consider. With fewer moving parts, electric cars are generally more reliable than their petrol or diesel equivalents – although DS' warranty is no better than par for the course.
Electric cars are particularly attractive for company-car drivers and the DS 3 is no exception. A petrol or diesel model will see you paying a good whack of Benefit-in-Kind (BiK) tax each year, but electric cars were zero-rated for this during the 2020/21 financial year. This rises to just 1% for the April 2021-April 2022 period, so 20% and 40% taxpayers respectively are liable for a mere £69 or £137 to run an entry-level DS 3 Crossback E-TENSE for those 12 months.
DS 3 Crossback E-TENSE insurance group
Surprisingly, the DS 3 Crossback E-TENSE shares its insurance group with flash high-end sports cars rather than run-of-the-mill family SUVs. It's true that some electric and hybrid cars attract higher premiums, but the DS is still more costly than we'd hope for a car of this type.
As if the basic Performance Line model (group 35) wasn't bad enough, the flagship Ultra Prestige has a group 38 rating. For comparison, the Kia e-Niro sits in group 28 – considerably lower than the DS 3's lofty ratings. So make sure to get a few quotes before signing on the dotted line.
Warranty
Like all PSA Group cars, the DS 3 Crossback E-TENSE gets a three-year/60,000-mile warranty. While somewhat unexceptional, this is fairly standard across the industry and compares well against rivals. The e-Niro gets a seven-year/100,000-mile guarantee, so if you plan to keep your car for longer, this could be worth consideration.
On top of the standard three-year warranty, the DS 3 comes with an eight-year/100,000-mile battery guarantee – protecting the cells from degradation. If, in that timeframe, the battery can no longer hold at least 70% of its original capacity, the company will replace it free of charge.
Servicing
Servicing intervals for the DS 3 Crossback E-TENSE haven't yet been revealed, but we don't expect it to differ from the arrangement Peugeot offers on the e-2008. That would mean servicing every two years or 16,000 miles – whichever comes first.
Road tax
As is the case with all electric cars, the DS 3 Crossback E-TENSE is completely exempt from annual road tax (VED) and the London Congestion Charge till 2025.