NIO ES8: pictures, specs and details
Although not on sale outside China, the NIO ES8 has been a success on home soil and shows what the Tesla rival can offer when it goes global
The NIO ES8 is a large, six or seven-seat SUV built by Chinese manufacturer NIO. NIO has made a big name for itself as a serious rival to Tesla in the Chinese market, delivering premium pure-electric cars and innovative technology to support them including battery-swap stations, charging valets and more.   Currently, NIO is only selling cars in its home market, but the brand is promising an expansion into Europe and beyond. Left-hand-drive markets will likely be first for the company's global plan, with NIO's European VP Hui Zhang recently stating that "the plan is to come to Western markets in the next two to three years".
Right-hand-drive markets including the UK are likely to follow a little later, with the smaller five-seat ES6 set to spearhead NIO's entry into European markets.
The NIO ES8 is a large, premium SUV of a similar size to the Tesla Model X. It features various novel technologies, including a huge 11.3-inch touchscreen interface similar to that found in Teslas, and 'Nomi' – the world's first artificial-intelligence robot assistant in a vehicle.
NIO ES8 specifications
A significant update for 2020 has seen the NIO ES8 get an updated chassis courtesy of engineers in the UK, with over 96% of it now made from aluminium to help reduce weight and improve torsional rigidity for better safety and handling.
Complete with a 100kWh battery pack, the four-wheel-drive ES8 can do 0-62mph in 4.9 seconds courtesy of dual electric motors that total 537bhp. NIO states an NEDC-calculated driving range of up to 360 miles for the car, but the NEDC test is no longer used, so by the standards of the more realistic WLTP testing now employed in Europe, the ES8 would likely have a range of roughly 300 miles.
A full charge from a standard 7kW home wallbox would take some 16 hours for a full charge, while in China those with access to one of 80 battery-swap stations can get a full battery in just three minutes.
Interior
The ES8 is predictably spacious, and the 2020 update has seen interior cubbies improved; there are now 24 different storage areas in the cabin, with a total 1,900 litres of space with the rearmost seats folded.
The middle seats also offer a foot support that can be extended as the seat reclines for a full executive experience, while the front passenger seat glides backwards to give access to children in the middle seats while the car is on the move.
The tech features of the car centre around the 11.3-inch touchscreen, which can also be controlled using a small rotary controller. A configurable digital driver's readout finishes the high-tech look and a head-up display also gives further essential information.
In China the freshly updated NIO ES8 starts from around £54,000, with prices for the top-spec Signature Edition coming in at around £10,000 more.
Electric Renault 5: prices, 2024 launch date and teaser images of the MINI Cooper rival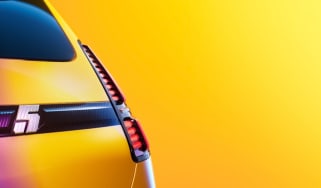 Electric Renault 5: prices, 2024 launch date and teaser images of the MINI Cooper rival
New official teaser pictures for Renault's electric supermini confirm the 5's reveal in February 2024
Big price cut: Electric Renault Megane prices slashed in time for Christmas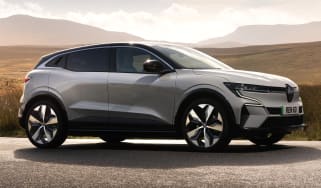 Big price cut: Electric Renault Megane prices slashed in time for Christmas
Renault Megane E-Tech gets a price drop of up to £3,500, bringing the starting price to just £34,495