Q&A: Aston Martin's electric future
DrivingElectric hears from the people behind the Aston Martin Rapide E electric car and the forthcoming relaunch of Lagonda as an electric-only ultra-luxury brand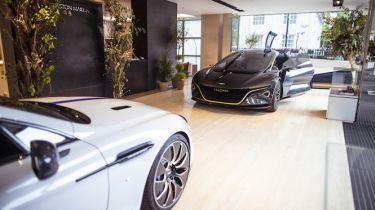 Not that long ago, electric cars weren't on the radar for Aston Martin, better known for its long line of V8 and V12 petrol-engined high-performance GT cars.
But the British brand is now gearing up for the launch of its first electric model – an ultra-exclusive run of 155 Rapide E four-door coupes – as well as the rebirth of Lagonda as a maker of electric-only, ultra-luxury cars.
DrivingElectric recently sat down with John Caress, the vehicle line director for the Rapide E, and Simon Croft, senior manager for launch strategy and planning, at the Stratstone Aston Martin dealership in Mayfair, London, to discuss the coming electrification of Aston Martin and the debut of Lagonda.
What was the thinking behind creating Aston Martin's first electric car on an existing internal-combustion platform [the Rapide] and in low volume? Was it a case of taking a toe-in-the-water approach?
John Caress: "Yes and no. We decided to do it on Rapide, because at the time we outlined this project (three years ago), we absolutely needed to have an alternative-fuel strategy in place. For sustainability, and for customers still needing to use their cars in cities and urban areas. One of the key things about Rapide was that we knew the car; I was the original programme manager back in 2009.
"It was the largest-footprint car we had at the time and we knew it inside and out. The purpose of that was to learn and gain capability internally about electrification and do that in a controlled, small, low-volume way. In the process we've made something quite exquisite; 155 cars globally is very small volume.
"But it means that we'll know all of those customers – we're creating a sort of 'EV club' and we want those people to be part of our journey. The end of that journey is the launch of Lagonda in 2022. We want to take those people with us and almost have them function as a 'steering committee' to assist us in this new journey."
Are Rapide E customers of a different age or background to a typical Aston Martin owner?
JC: "They're primarily existing Aston Martin owners, wanting more luxury. The pinnacle of electric cars right now is the Tesla Model S and X and we're seeing customers who currently have an Aston Martin DB11 and a Tesla. They want to combine the best of both worlds and own something truly exquisite that they can still use; the Rapide E does that.
"Like any special project we do, some owners will want it as a piece in their collection, where it'll do zero miles, but we've also got customers who are using the car every day as a commuter and they want flexibility, so questions about charging come up. It's a new language that not only Aston Martin is having to adopt, but also learn about and explain to a traditional internal-combustion-engine (ICE) customer base as well."
Is there any appetite to go back to something like the Cygnet – to make a smaller, luxury electric car for the city?
JC: "The Cygnet served a purpose at the time, but electrification and hybridisation bring us so many more benefits in terms of power, torque and – as you can see on the Lagonda – packaging. It's very much about the occupant space inside. The battery platform isn't very deep, which allows us the maximum space inside possible. The power and torque give you much more flexibility in terms of what you can offer in a car, too.
"The Lagonda Vision Concept [above] is a large car, but in terms of overall length versus passenger space, there's much more space than in an ICE car, because the drivetrain is a lot smaller and much more compact; the 'engine' and 'fuel tank' basically swap places."
Williams Advanced Engineering and Unipart formed the 'Hyperbat' joint venture to produce batteries for the Rapide E – is this something you will continue to draw on for future electric models?
JC: "Potentially, yes. Hyperbat puts us in a good position going forward; there's a really good basis now in Coventry for producing low-volume, high-performance batteries, whether that's a hybrid battery or a full-blown electric-car battery.
"For Lagonda, the engineering teams are still working on what the final battery solution will be. The industry is changing every day; it has changed massively even since we started Rapide E. So it's not necessarily a Hyperbat battery that will go into the Lagonda, but it's a possibility."
For a short time, it's going to be possible to buy both petrol and electric-powered versions of the Rapide. Are you planning to offer a choice of drivetrains in a single model again?
JC: "That's not currently in the plan. Lagonda will be the first luxury electric-only brand. Who knows in the future, but there won't be another Aston Martin purely electric car for a while – the focus there is on hybridisation."
What has the process of reinventing Lagonda as an electric-only brand been like?
Simon Croft: "By separating Lagonda from Aston Martin, it can have its own clear and wide space in the marketplace. You can then keep Aston Martin as the car that you drive and Lagonda can become – potentially in the future – the car that drives you.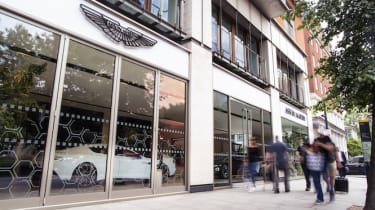 "How and where we package the battery allows us to have that lounge-like interior, so when the technology and legislation catch up, you'll be able to sit there and work away while the car drives you, but then hop into your Aston Martin at the weekend and drive it yourself."
What are the prospects of seeing a solid-state battery in the first Lagonda when it launches?
JC: "I personally think it's further down the road than that. Battery technology is moving on, new chemistries are appearing every week, thousands of people are working on it around the globe; there's very healthy competition there right now.
"There's a lot more life in existing lithium-ion batteries yet – the efficiencies are getting better. It's not just about the batteries themselves, but also the supporting components. We're doing things like miniaturising inverters and converters, understanding more about battery control systems and exploring the influence of aerodynamics on range."
"Solid-state will happen eventually; there's a technology road-map for that. We're on a journey in terms of understanding what's out there and trying to keep apace of that. We want the best solution for our product and our teams are looking at what that will be."
Aston Martin reveals new V6 plug-in hybrid powertrain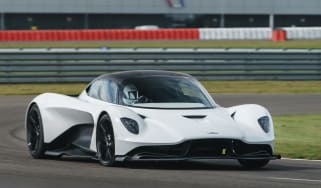 Aston Martin reveals new V6 plug-in hybrid powertrain
Welcome to the all-new DrivingElectric website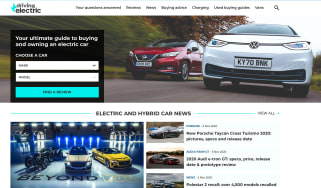 Welcome to the all-new DrivingElectric website
DrivingElectric has an all-new look; faster and easier to use, it's still your ultimate guide to buying and owning an electric car
Hyundai Kona Electric facelift images 2020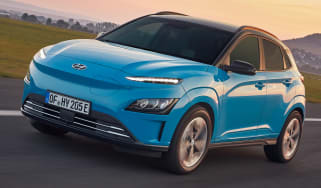 Hyundai Kona Electric facelift images 2020
Pictures of the facelifted Hyundai Kona Electric
New Cupra Leon e-Hybrid on sale now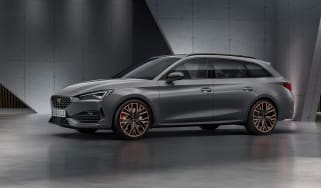 New Cupra Leon e-Hybrid on sale now
New Cupra Leon e-Hybrid gets 242bhp, 32-mile range and bold styling; prices start at £34,495