Volkswagen e-up! (2019-2022) range, battery & charging
The latest Volkswagen e-up! has much longer range than its predecessor thanks to a more energy-dense battery, making it a more usable electric car than before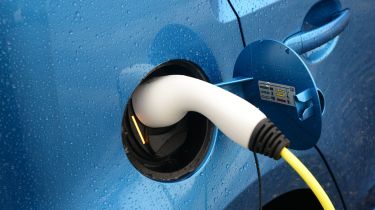 | Range | Battery size | Wallbox charge time | Rapid charge time |
| --- | --- | --- | --- |
| 159 miles | 36.8kWh | 5hrs 30mins (0-100%, 7.2kW) | 48mins (10-80%, 30kW) |
The e-up! has evolved since launching in 2014. Thanks to the latest version's more energy-dense battery, it's a more usable electric car than before; the new battery sits in the same space as the old unit, returning a far more acceptable 159 miles on a single charge.
The e-up! is compatible with rapid chargers, and Volkswagen says that a 40kW supply will deliver a 0-80% top-up in around an hour. Plugging into a 7.2kW home wallbox will do the same job in around five-and-a-half hours, while a full charge from a three-pin household socket will take some 16 hours.
Drivers can use VW's smartphone app to monitor charging progress remotely, as well as pre-cool or pre-heat the interior before they get in the car – a useful feature in the winter months when wielding an ice scraper can be something of a chore.
Volkswagen e-up! range
The e-up! can't travel as far as the latest Renault ZOE (159 miles vs 245 miles) on a charge, but assuming you've got a full battery, the Volkswagen should offer more than enough range for most urban dwellers to get to and from work all week, without needing to plug in. The VW's range probably equates to nearer 140 miles on warm days, or circa 120 miles in winter weather.
That predicted range will drop dramatically if you use the e-up! on the motorway, too – perhaps as low as 85 miles on cold days. It's a shame, because despite its modest power output, it gets to its electronically limited 81mph top speed with relative ease and doesn't feel out of its depth there, either.
Charge time
Unlike its Skoda Citigo-e iV sibling, which was available in the UK without the Volkswagen's more expensive fast charging capability, the e-up! came in just one trim level and with one charging speed. With its standard Type 2 and CCS ports, the e-up! will charge to 80% full on a fast charger in around an hour, or from a 7.2kW home wallbox in five to six hours. If you plug it into a standard domestic socket, you can expect a full charge in around 16 hours.
As the e-up! is based on what was originally a petrol-engined car, the usual fuel filler cap doubles as a charging flap, and thanks to the car's short rear overhang, you shouldn't have any trouble getting the up! nice and close to any available charging point. Every e-up! comes with two charging cables – one for wallboxes and public charging points, and another for using with a three-pin domestic socket.