Volkswagen e-up! (2019-2022) running costs, insurance, warranty & tax
The Volkswagen e-up! is small, light and very cheap to run, so switching from an equivalent petrol-engined car could save you thousands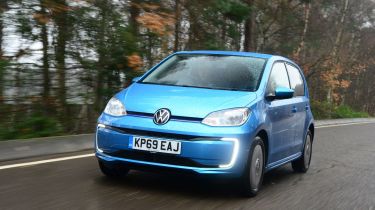 | Insurance group | Warranty | Service interval | Annual company-car tax cost (20%/40%) |
| --- | --- | --- | --- |
| 10 | 3yrs/60,000 miles | 1yr/20,000 miles | £96/£192 |
One of the main drivers of both business and private buyers switching to electric cars is saving money. Many will claim their decision was influenced by the environment, but in reality, most will look at the amount coming out of their bank account at the end of every month.
With this in mind, there are few cars as cheap to run as the Volkswagen e-up!. If you can charge at home, taking advantage of an affordable electricity tariff, you'll save stacks of cash compared to filling a car with petrol. What's more, insuring, taxing and servicing the small electric Volkswagen should be cheap, too.
Residual values aren't that strong, although they're broadly in line with the rest of the up! range. Data suggests the latest version of the e-up! will retain almost 38% of its value after three years, compared with between 41% and 43% for other models in the range.
Volkswagen e-up! insurance group
As the car sits in a lowly group 10 for insurance, it shouldn't cost the average motorist much to cover a Volkswagen e-up! for a year. In fact, it's likely to be one of the most affordable electric cars to insure – even for young or learner drivers. Even the mechanically identical Skoda Citigo-e iV sat in groups 11 and 12 – theoretically making it more expensive to insure despite its less desirable badge.
Warranty
Like all new Volkswagens, the e-up! is covered by the company's standard three-year/60,000-mile guarantee. In addition, Volkswagen offers an eight-year battery warranty, limited to 160,000 kilometres (99,360 miles). This covers degradation of the battery, ensuring that if it drops below a defined usable capacity, it'll be replaced free of charge.
Servicing
The Volkswagen e-up!'s service schedule isn't all that different to the petrol or diesel version's. The maker says every e-up! needs a first 'inspection service' after two years or 20,000 miles – whichever comes soonest. This should then be followed each year or 20,000 miles – again, whichever comes first. Compare that with the petrol car, which needs its first service after one year or 10,000 miles, and it's clear there's money to be saved by buying Volkswagen's smallest electric car.
Road tax
As with all fully electric cars, the e-up! is currently zero-rated for vehicle excise duty (VED), or road tax as it's informally known.