Volkswagen e-up! (2019-2022) performance, top speed & motor
The Volkswagen e-up! can't compete with the fastest electric cars, but it's a strong performer given its diminutive size and intended use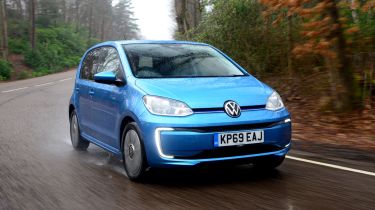 | 0-62mph | Top speed | Driven wheels | Power |
| --- | --- | --- | --- |
| 11.5s | 81mph | Front | 81bhp |
The Volkswagen e-up! is an accomplished small electric car, but understandably it's better suited to urban commuting or short stints on faster roads rather than long-distance cruising. While it drives neatly, the fun factor is overwhelmingly governed by the keen electric motor rather than the car's engaging handling.
There's plenty of punch at lower speeds, however, and you'll notice only a faint whir from the motor under heavier loads. Refinement at a cruise is good, too; like all electric cars, the lack of engine noise means other sounds are more noticeable, but road noise is suppressed by skinny tyres.
Volkswagen e-up! 0-62mph, top speed and acceleration
As you'd expect, the e-up! is far better suited to town driving than longer motorway journeys. You get that characteristic electric zip off the line, with a nice hit of performance when nipping in and out of traffic.
The updated e-up! is plenty quick enough up to 30mph and feels far faster than its official 0-62mph time of almost 12 seconds might suggest. It won't keep up with cars like the MINI Electric or Honda e in a straight line, but should be more than quick enough for most buyers.
Despite the fact it's more at home in town, the e-up! gets up to its electronically limited 81mph top speed with relative ease, and it doesn't feel out of its depth on faster runs, either. That said, it can feel a little strained on steeper inclines – but it's certainly no worse than its petrol-engined equivalent in this regard.
Handling
The e-up! won't challenge the Honda e or MINI Electric in a straight line, and nor will it trouble them in the corners. The Volkswagen's controls are light and there's enough grip from the skinny tyres – but this is a city car first and foremost, and while it handles sweetly enough, there's not much fun to be had throwing one through a series of tight bends.
Stick to the up!'s strengths, however, and you'll find it a fantastic small car. Fiddle with the gear selector and you can alter the strength of the brake regeneration, too – it's not as strong as the Nissan Leaf's 'e-Pedal', but sufficient for slowing the car in faster-flowing traffic.