Used Audi A3 e-tron buying guide
All you need to know about buying a used Audi A3 Sportback e-tron plug-in hybrid, produced from 2014 to 2018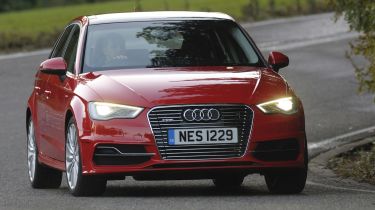 Audi's e-tron name was first applied to the plug-in version of its stylish-yet-understated hatchback model, the A3 Sportback, in 2014. The Audi A3 e-tron was Audi's first plug-in hybrid in the UK and paved the way for future electrified Audi models using 'e-tron' branding to distinguish them from standard versions – 'Audi e-tron' even became the name of a standalone electric SUV in 2018.
The A3 itself is based on the well established Volkswagen Golf, and the e-tron version replaced the usual petrol or diesel engines with a 1.4-litre turbocharged petrol engine and electric motor that produced combined power of around 201bhp. The A3 e-tron is a great secondhand plug-in hybrid car option – especially for buyers wanting lower running costs and conservative styling that tends to age well.
The A3 Sportback e-tron and the Volkswagen Golf GTE of the time shared many components, but while the Golf GTE was marketed as a sporty hybrid version of the Golf, the A3 e-tron kept its subtle, executive styling and strong interior quality, with more of a focus on refinement.
The A3 e-tron has since been discontinued, but was replaced by TFSI e badged plug-in versions of the latest A3. As with the old car, these share much with the latest iteration of the Volkswagen Golf GTE. However, if you can't stretch to a brand-new example, the Audi A3 e-tron is a great used plug-in hybrid option for the money.
History
April 2011: An Audi A3 e-tron four-door saloon concept is unveiled at the Shanghai Motor Show.
September 2012: The first UK deliveries are made of the third-generation Audi A3 hatchback, but at this stage in three-door form only. At the same time, the five-door A3 Sportback is unveiled ready for the first UK deliveries in spring 2013.
March 2013: The A3 Sportback e-tron makes its debut at the Geneva Motor Show. Using the five-door A3 Sportback as its basis, the e-tron is fitted with a 148bhp 1.4-litre TSI petrol engine mated to a 100bhp electric motor to give a peak power output of 201bhp.
July 2014: The A3 Sportback e-tron goes on sale in the UK, priced from £34,950 before Government incentives are applied. Because a £5,000 grant is available, the A3 Sportback e-tron can be bought from £29,950. The e-tron is the first electrified Audi to be offered in the UK and all cars come with four driving modes ranging from pure electric to petrol only. In between are modes that allow the battery to be recharged with maximum regenerative braking, although the effect of this can be increased or reduced.
September 2016: An updated A3 Sportback e-tron reaches showrooms. The key upgrade was the availability of Audi's 12.3-inch digital instrumentation display, known as Virtual Cockpit, which allows the driver to customise the display. There was also a redesigned navigation for the infotainment system, extra driver assistance systems, plus matrix LED headlights were now optional in place of the regular LED units.
Which one should I buy?
All A3 Sportback e-trons are the same mechanically, as they came only in six-speed S tronic automatic form, with an 8.8kWh battery pack to give a theoretical maximum range of 584 miles using petrol and electricity together.
Partnership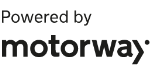 Need to sell your car?
Find your best offer from over 5,000+ dealers. It's that easy.
Just one trim level was available for the A3 e-tron from-new, but it came with a fairly generous amount of equipment. Buyers got 17-inch alloy wheels, a navigation system, an eight-speaker hi-fi with DAB, sports seats, dual-zone climate control and a multi-function steering wheel. Powered windows front and rear, parking sensors, automatic headlights and wipers were also included on all models.
The only standard colours were white, black and red, but there were 15 extra-cost metallic and pearlescent hues available including silver, red, blue, green, grey, black and white. Inside, all e-trons came with cloth trim, but leather or leather and Alcantara trim were offered for extra cash.
Other extra-cost options included heated seats, electric lumbar adjustment and electric adjustment, all for the front seats only. Other options that you might want to home in on include a fixed panoramic glass roof, a Bang & Olufsen hi-fi, cruise control (with adaptive cruise control more money again), privacy glass, a rear parking camera and front parking sensors.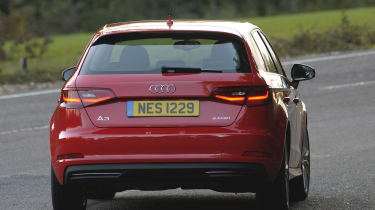 Alternatives
The closest rival to the Audi A3 e-tron is the Volkswagen Golf GTE, which is essentially the same car underneath. There's little to separate them in terms of the driving experience, both come with very high-quality interiors and running costs are likely to be broadly similar.
If the hatchback configuration isn't essential you should take a look at the BMW 330e or Mercedes C 350 e, both plug-in hybrids, which in the case of the BMW comes in saloon form only; the Mercedes is available as an estate, too. As you'd expect from their respective brands, these cars are great to drive, beautifully made and easy to live with.
Another BMW that's worth considering is the i3, which comes in pure-electric or range-extender form. The latter pairs an electric motor with a small petrol motorbike engine to give a range of up to a claimed 206 miles; the electric-only model cuts this to just 125 miles.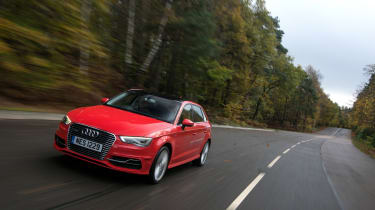 Verdict
The Audi A3 is one of the slickest cars in its segment – perhaps even the slickest of all. Audi was never going to compromise by introducing a plug-in hybrid which wasn't as impressive as all of the other models in the A3 range. As a result, you can be assured that the A3 Sportback e-tron will be a pleasure to own, even if it's not the cheapest choice out there.
Indeed, as with any plug-in hybrid, you pay quite a premium compared to an equivalent petrol or diesel-engined alternative from the A3 range. Whether the premium is worth it or not only you can decide, because as our sister title Auto Express said when it first reviewed the A3 Sportback e-tron: "the hybrid setup feels less well resolved than rival range-extenders, while the batteries' extra weight blunts the drive. Finally, if you use the car for long journeys, fuel economy suffers, too."
Checklist
•    A free app is available that connects owners with their e-tron. This displays the current charge level within the battery pack, as well as fuel-consumption details, plus it allows a smartphone to be used as a remote control to set the climate control ready for departure. It's also possible to remotely set charging.
•    The A3 Sportback e-tron is a plug-in hybrid, so it has a bigger battery pack (8.8kWh) than a regular hybrid. As a result, it can travel up to 31 miles in electric-only mode.
•    A full charge of the A3 Sportback e-tron is claimed to take three hours and 45 minutes from a standard domestic socket, or two hours 15 minutes from a wallbox.
•    An active bonnet is fitted, which means in the event of a collision with a pedestrian it pops up to create a cushioning effect. Unfortunately, it can also pop up if an animal is hit, leading to a hefty bill to put things right.
•    The e-tron comes with two charging cables as standard, so make sure the car comes with both of them. One is for domestic charging and the other is for when you're using public charging points.
•    The e-tron's boot can hold 280 litres with the rear seats up and 1220 litres with them folded. That compares with 380 and 1,220 litres for conventionally powered A3s – which also get 50 or 55-litre fuel tanks compared to the e-tron's 40-litre item.
Recalls
November 2017: The rear hub carriers could fail because of a manufacturing fault.
February 2018: The passenger airbag could fail to inflate in an impact.
November 2018: Some cars were delivered with faulty rear headrest mountings.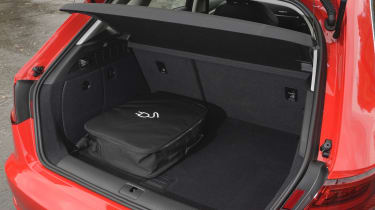 Running costs
•    Insurance groups: 29-33
•    Average mpg: 166-176
•    CO2 emissions: 37-39g/km
Although the A3 Sportback e-tron came only with a three-year warranty for the car as a whole, the battery pack has an eight-year or 100,000-mile guarantee. The service schedule is set at 12 months or 9,000 miles, alternating between minor and major. At the time of writing (October 2019) these were priced at £170 and £335 respectively, with a brake fluid change also required every other year at an extra £65.
The 1.4-litre TSI petrol engine at the heart of the e-tron has a cambelt, which has to be replaced every five years or 140,000 miles, for which an official Audi dealer will charge a surprisingly hefty £725.
Top 10 best hybrid hatchbacks 2023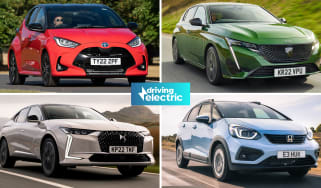 Top 10 best hybrid hatchbacks 2023
Electric Renault 5: prices, 2024 launch date and teaser images of the MINI Cooper rival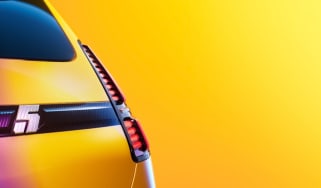 Electric Renault 5: prices, 2024 launch date and teaser images of the MINI Cooper rival
New official teaser pictures for Renault's electric supermini confirm the 5's reveal in February 2024
Big price cut: Electric Renault Megane prices slashed in time for Christmas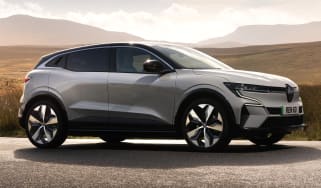 Big price cut: Electric Renault Megane prices slashed in time for Christmas
Renault Megane E-Tech gets a price drop of up to £3,500, bringing the starting price to just £34,495