Volkswagen ID. Buzz 2022: specs and on-sale date
The Volkswagen ID. Buzz shows that the company is happy for its future zero-emission cars to have a decidedly retro feel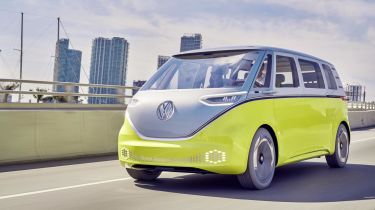 The reaction to Volkswagen's ID. Buzz concept has been so positive that the company is going to put a version into production. However, we'll have to wait until 2022 to see it. 
When it arrives, it'll be third member of Volkswagen's ID family, following on from the regular ID. hatchback and ID. Crozz SUV.
They're all built on the company's MEB platform, which has been developed specifically for electric cars, but the retro looks of the Buzz contrast with the modern style of the other two. 
Volkswagen ID. Buzz styling
The Buzz is quite unashamedly inspired by the 1950s Type 2 Microbus. It has the same two-tone paintwork and a flat front end with a big 'VW' badge, although the full LED lights are a thoroughly 21st-century touch.
As you might only expect, the boxy shape translates into plenty of space inside, but the fact that the Buzz is an electric car is also a big help. It means the designers can leave a flat floor inside the car, while there's enough room for eight seats inside – and they can all be adjusted in a variety of ways.
If you're carrying packages rather than passengers, then there's further good news. Volkswagen also plans to sell a van based on the same building blocks. It was previewed by the I.D. Buzz Cargo concept, which was unveiled at the IAA Commercial Vehicle show in Hannover in September 2018.
Powertrain
Volkswagen hasn't confirmed exactly what capacity of battery the Buzz will have, but it's possible that the production version could carry over the concept's pair of electric motors, giving the car four-wheel drive.
With a total output of 369bhp, they were enough to give a 0-62mph time of five seconds. On top of that, the Buzz prototype was claimed to have a range of up to 373 miles and the ability to receive an 80% charge in 30 minutes.
Release date
We're still some way away from the production version of the ID. Buzz going on sale, so it's hard to be anything other than vague about when it'll appear. The closest we've had to a confirmed date was at the Pebble Beach Concours d'Elegance in 2017. Then, Volkswagen boss Herbert Diess said that the car would be on sale "by 2022".
Best plug-in hybrid cars 2021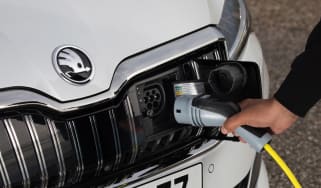 Best plug-in hybrid cars 2021
The best plug-in hybrid cars offer great fuel economy and very low running costs as long as you keep their batteries charged
Aston Martin plans for 90% electrification of its range by 2030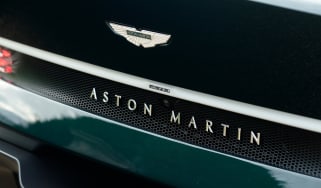 Aston Martin plans for 90% electrification of its range by 2030
British luxury brand confirms that it has plans for an electric car and plug-in hybrids as 2030 ban looms