Toyota Prius+ (2012-2020) engines, drive & performance
The Toyota Prius+ is easy to drive around town, and still has enough performance for the motorway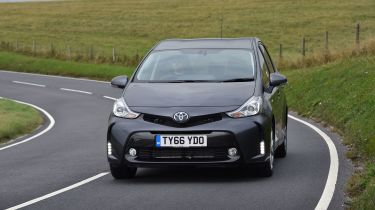 | 0-62mph | Top speed | Driven wheels | Power |
| --- | --- | --- | --- |
| 11.3s | 103mph | Front | 134bhp |
The Toyota Prius+ is based on the previous-generation Prius, rather than the current hatchback. And while that means the general driving experience is more relaxing than racy, that's what most buyers want.
Although the Prius+ is a little longer than the Prius hatchback, it provides a good view out, which helps make it easy to drive around town. It's comfortable, too, thanks to soft suspension that you'll appreciate, no matter how long your journey.
Sadly, it's a different story when the speed increases. The light steering that makes round-town driving a doddle lacks feel and reduces your confidence when cornering at higher speed out of town. To make matters worse, the soft suspension means the Prius+ has a tendency to lean when tackling those bends as well.
Toyota Prius+ hybrid engine, 0-62mph and acceleration
Every version of the Prius+ comes with the same powertrain: a 1.8-litre petrol engine that develops 98bhp is supplemented by an 81bhp electric motor. However, due to the vagaries of calculating total power, the Prius+ is actually rated at 134bhp. That sounds reasonable, but performance is blunted by the car's 1.5-tonne weight.
This translates to a 0-62mph time of 11.3 seconds and a top speed of 103mph. In comparison, that's the same kind of acceleration managed by the most basic version of the Volkswagen Touran, with a 1.2-litre petrol engine.
For the kind of car it is, the Prius+ gives perfectly acceptable acceleration. However, what's less attractive is the amount of noise it makes. Thanks to its CVT-type automatic gearbox, the Prius+ sounds frenetic when overtaking, because the engine's revs soar when you want full power. Even pulling onto a motorway slip road is an uncharacteristically noisy affair.
Four driving modes are available. EV locks the car in all-electric mode at low speeds, until the accelerator pedal is firmly pressed or the battery starts to deplete. Eco mode sees the accelerator response blunted while the air-conditioning uses less energy.
In Normal mode, the Prius+ will run on electric power under light acceleration and constant low-speed driving. Power mode increases response from the accelerator, boosts power and improves acceleration.
Handling
The Prius+ gives just the kind of ride you might well expect of a seven-seat MPV. In other words, it's comfortable. Well, mostly… Along a main road out of town, it's very smooth, and that means it's ideal for covering long distances – although the relatively poor fuel economy might persuade you otherwise.
Sadly, when it does reach a rough surface, you'll feel rather more of the bumps than you'd like, which is a shame. And if you corner quickly, you'll notice quite a bit of body lean.
Around town, the Prius+ is in its element and quite relaxing to drive. In that respect, it's helped particularly by the fact that the car is almost totally silent when you're driving around using the electric power only.