Toyota Prius+ (2012-2020) practicality & boot space
A comfortable and spacious interior means the Toyota Prius+ can cope with family trips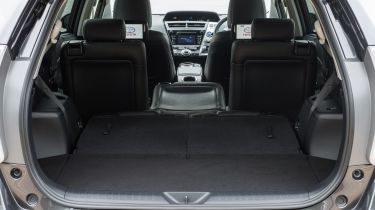 Despite the bulky battery packs that sit under the Toyota Prius+, it's actually a practical and spacious seven-seat car
Toyota Prius+ interior space, storage & comfort
There's no shortage of space for people and luggage inside the Prius+. The driver and front-seat passenger have loads of room, as do any passengers travelling in the middle row. The seats fold individually, too, which means that the centre seatback can be dropped to form a large armrest for the outermost passengers in the middle row or to allow long loads to come through from the boot.
As you'd only expect, it's more cramped in the third row of seats. While you can squeeze a couple of adults there for short journeys, it's far better suited to children.
It's good news if you need space for odds and ends, too. The door pockets are a decent size and there's a large cubby between the two front seats, with a cup-holder at either end. There's also space beneath the centre console, while a pair of gloveboxes means the car is easily up to swallowing everything family life needs.
Boot space
With all three rows of seats in place, boot space is rated at a city-car-like 200 litres – or 232 litres if you load right up to the roof. That sounds pretty tiny, but it's on par with most other MPVs. If you fold away the rear seats and treat the Prius+ as a five-seater, there's 505 litres of space – or 768 to the roof. That's more than the similarly sized Toyota Verso.
There's a bit of a lip to lift luggage over, but the boot is a good, square shape and the pull-out luggage cover is easy to operate. Fold each of the three seats, which is possible with a pull of a lever on each seatback, and they lie flat. An extra flap of boot carpet drops down to cover the gap between the seats and boot floor, making it easy to slide luggage in.