Toyota Prius+ (2012-2020) MPG & CO2 emissions
The Toyota Prius+ isn't especially economical, but it works best if you do lots of short journeys around town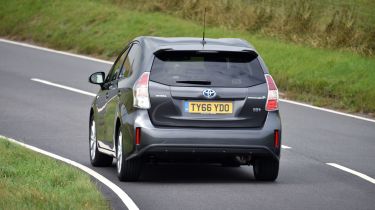 | MPG (combined) | MPG (high) | MPG (low) | CO2 emissions |
| --- | --- | --- | --- |
| 49mpg | 55mpg | 50mpg | 132-135g/km |
There's no other hybrid seven-seat MPV, so the Toyota Prius+ is in a class of its own; by default, it's a class-leader
Toyota Prius+ MPG & CO2 emissions
The economy you'll get from the Prius+ depends very much on the kind of driving you do. If you spend a lot of time around town, where you can use the electric power, then you can expect to see something approaching the claimed 50mpg.
On the other hand, if you spend most of your motoring life on the motorway, you'll get better economy from one of its diesel-engined rivals. 
The economy also depends slightly on the version you choose. The more expensive Excel, with its bigger wheels, returns slightly less impressive economy than the Icon.
CO2 emissions are 132g/km for the Icon and 135g/km for the Excel (due to its larger heels). This is no longer competitive with other hybrid cars, but not surprising when you consider the Prius+ is based on the old third-generation Prius, the hatchback version of which was superseded back in 2016.