Toyota Auris Touring Sports Hybrid (2013-2019) review
The Toyota Auris Touring Sports Hybrid is a fine choice for those seeking practicality and low running costs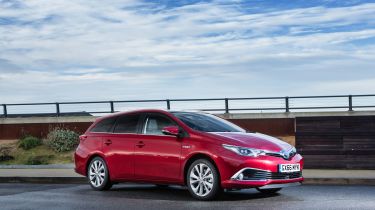 Pros
Big boot
Cheap to run
Well equipped
Cons
Noisy automatic gearbox
Not much fun to drive
Dated looks
While some carmakers are pushing on with all-electric models, hybrid is the technology Toyota is backing for now – and with good reason. The Toyota Prius is the biggest name in the hybrid game, and it shares much with the Auris – and this, the Auris Touring Sports Hybrid.
Its name sounds very grand, but to the majority of buyers, it's an Auris estate, plain and simple. That means it's mechanically identical to the Auris hatchback. However, the Touring Sports does have a big advantage over its sister, in that it's a mid-sized estate. When combined with its hybrid mechanicals, that makes it quite a rare thing.
It serves company-car buyers seeking affordable and practical transport very well indeed, with a low Benefit-in-Kind rating of 19% in the 2018/19 tax year, thanks to CO2 emissions of 99g/km. It doesn't offer the same fiscal benefits for private buyers though, as it still attracts a £130-a-year road-tax bill.
Where every Auris Touring Sports Hybrid owner benefits is at the petrol pumps. Toyota claims it'll manage 65.6mpg on average, and is able to travel a mile or two on its electric motors alone. That's less than any plug-in hybrid, but it doesn't require charging, either – Toyota describes the car as a 'self-charging' hybrid. That has significant benefits in stop-start traffic, as the Auris doesn't need to fire up its engine anywhere near as often as a petrol or diesel car might, helping reduce local air pollution.
All that's excellent news for those who choose cars with their heads (or wallets). Those who choose with their hearts might be a little more disappointed. Most of the Auris' petrol or diesel-powered rivals are nicer to drive and to look at, and electric hatchback rivals such as the Audi A3 e-tron, Volkswagen e-Golf and Nissan Leaf are all more fun.
Under the bonnet you'll find a 1.8-litre petrol engine closely related to the one in the Toyota Prius, along with a similar CVT-style automatic transmission. A common characteristic of CVT gearboxes is a tendency to drone under acceleration, and a prod of the accelerator pedal sends the revs rising. It's fine at low speeds or at a motorway cruise, but becomes tiresome on winding roads.
It's on those journeys where the Auris' comprehensive range of standard equipment will come into its own. There are four trim levels, although we think the Icon Tech is the pick of the range. The second trim of the four balances price and equipment well, and comes with air-conditioning, a seven-inch infotainment screen, DAB radio and a rear parking camera.
The Auris Touring Sports lacks flair when it comes to interior styling, but the materials are beyond reproach. It feels extremely well built, and owner satisfaction scores are high. Interior space is pretty good, although legroom lags behind the petrol and diesel-powered Skoda Octavia Estate and Peugeot 308 SW. Few other hybrids of this size are as versatile, however.
All Auris Touring Sports come with Toyota Safety Sense as standard. This packages together autonomous emergency braking (AEB), lane-departure warning, auto-dipping headlights and road-sign recognition. It won't come as a surprise to learn the hatchback version was awarded the maximum five-star rating by the experts at Euro NCAP; we'd expect the estate to perform just as well.
Toyota has an enviable reputation for reliability, but even so, the Auris Touring Sports Hybrid comes with a five-year/100,000-mile warranty.
For a more detailed look at the Toyota Auris Touring Sports hybrid, read on for the rest of our in-depth review.