Toyota Auris Touring Sports Hybrid MPG & CO2 emissions
Few estate cars can match the Toyota Auris Touring Sports Hybrid's running costs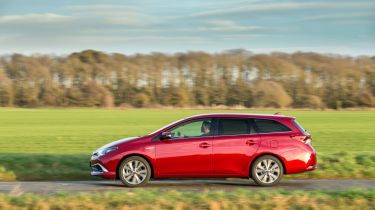 It doesn't offer the mind-boggling on-paper economy of a plug-in hybrid, but the Toyota Auris Touring Sports Hybrid is still mightily impressive. Toyota claims 65.6mpg is possible, but an easy 50mpg will be achievable for most drivers.
Also of importance is the Auris Touring Sports Hybrid's CO2 emissions, rated 99g/km. This means, like any other car that has an exhaust, it'll cost £130 a year in road tax, but the Benefit-in-Kind rating for company-car drivers is a modest 19%.
Toyota Auris Touring Sports Hybrid range
While the Auris is capable of travelling short distances on electric power alone, the motors are more there to provide ad-hoc assistance at low speeds or under acceleration. As such, Toyota doesn't quote an all-electric range.
The Auris Hybrid really comes into its own in stop-start, congested traffic, where it's able to move without activating the engine. There are a couple of caveats, though: the engine will kick in if you're using power-hungry features like very hot or very cold climate control, and when the battery starts to run down. In these circumstances, the engine will run quietly in the background, even when stationary, in order to charge the battery.
Charge time
Toyota refers to the Auris as a 'self-charging' hybrid. That means the car is able to charge its battery using the petrol engine as a generator. It's also able to charge the battery when braking, or by slowing when you take your foot off the accelerator. This regenerative braking system can provide impressive amounts of energy to the battery. To get the most from the system, you may need to change your driving habits. Using the extra regenerative braking force when simply decelerating is an efficient way to drive any hybrid.
Battery warranty
Every Toyota Auris Hybrid comes with a five-year/100,000-mile warranty for the battery and hybrid system. Plus, you get a 12-month/10,000-mile extended battery warranty whenever you have your car serviced at a Toyota service centre. There's no upper mileage limit, but you can only keep renewing it until the car is 11 years old.