Toyota Auris Touring Sports Hybrid running costs
The Toyota Auris Touring Sports Hybrid is cheap to run, but poor residual values mean it's a great secondhand buy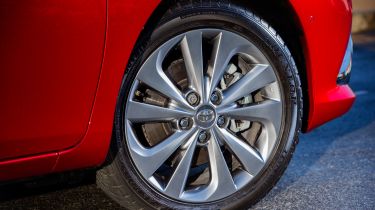 When it comes to day-to-day running costs, by which we mainly mean fuel economy, the Auris Touring Sports Hybrid is pretty affordable. As with any other car, how, where and when you drive has an impact on the Auris' MPG, and like other hybrids, it really comes into its own in stop-start traffic.
That's because the battery is able to power the Auris for short distances, making it perfect for the urban grind. As long as your battery is sufficiently charged, it's possible to negotiate entire traffic jams without relying on the engine. Toyota claims an official figure of 65.6mpg, but more than 50mpg will be easily within reach of most drivers. Even that figure stacks up well compared to the only other engine available in the Auris range – a 1.2-litre petrol.
Despite this, and the reduction in local air pollution cars like the Auris Touring Sports Hybrid bring about, there's no exemption from the London Congestion Charge.
Toyota Auris Touring Sports Hybrid insurance group
Hybrid versions of the Toyota Auris Touring Sports are remarkably cheap to insure, falling into insurance groups ranging from 7 to 14, depending on specification. With few direct rivals, it's hard to make estate-car comparisons, but the Hyundai Ioniq Hybrid starts at group 10, while 1.5-litre versions of the Ford Focus diesel range from 8 to 21, with most models falling around 15-17.
Warranty
Little criticism can be levelled at the quality of the Auris Touring Sports' warranty. It's only bettered by warranties provided by Hyundai and Kia. Every Auris has a five-year/100,000-mile warranty. It includes 12 years' anti-corrosion cover, plus three years' paintwork and surface rust cover. Neither have mileage limits, but are limited to manufacturing defects.
Extended warranties are available in 12 or 24-month increments, although there's an absolute limit of 10 years or 100,000 miles for when the final year of warranty is purchased, which seems fair.
Servicing
Helpfully, Toyota has a policy of 'flat-rate' service charges, so you'll not pay any more in London than you might in the north of Scotland, removing the need to shop around for the best price. 
The Auris Touring Sports Hybrid needs to be serviced every 10,000 miles or 12 months, whichever is sooner. Those numbers are fairly typical, but not class-leading. Services comprise the £185 'intermediate' (every 10,000 miles), the £295 'full' (every 20,000 miles) and the £395 'full+' (every 60,000 miles). While these fees cover the routine service, non-warranty repair and maintenance will need to be paid for. 
For owners of older Auris models, Toyota offers 'essential care' servicing. This sees rates reduced to encourage owners to use main dealers for longer.
Road tax
Despite its billing as a hybrid, there's little government incentive to by an Auris. A £10 reduction in annual road-tax cost is applied to all hybrids, taking the yearly cost from £140 to £130.
Depreciation
The Toyota Auris range is hit hard on the used market. After three years and 36,000 miles, it'll retain between 39 and 44% of its original value. Design spec retains the most value; Icon the least. Either way, it performs poorly compared to the Hyundai Ioniq Hybrid, which will retain more than 50% of its value. This means the Auris Touring Sports Hybrid may make a shrewd used-car buy.