Toyota Auris Touring Sports Hybrid engines, drive and performance
The Toyota Auris Touring Sports Hybrid places emphasis on ease of driving – not driving fun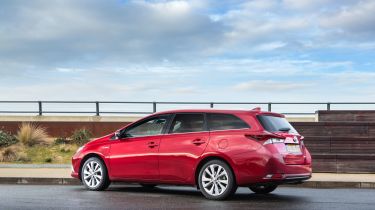 If you're looking for easy, no-fuss transportation, the Toyota Auris Touring Sports Hybrid has plenty to offer. If you're looking for something that stirs the soul a bit, the Toyota Prius and the Nissan Leaf promise more driving excitement.
Toyota Auris Touring Sports Hybrid engine, 0-62mph and acceleration
Hybrid versions are the slowest in the Auris Touring Sports range, but by such a small margin you'd never notice. It'll take 11.2 seconds to accelerate from 0-62mph – less than a second more than the 1.2-litre petrol model.
What you will notice is that the car feels strangled by its CVT automatic gearbox. The transmission, in effect, has a single variable gear. In practice, this means that if you accelerate hard, the revs build and the engine drones loudly. Once you're at speed, the revs drop off. The whole experience is a little like driving through treacle, and your ears tell you you're going faster than you really are. Top speed is 108mph – fractionally less than the hatchback version.
Things are far more serene at low speeds though, where it's possible to accelerate moderately without the engine kicking in. When it does, it does so smoothly.
Handling
The Auris Touring Sports Hybrid is easy to drive and rides over bumps well at speed. It's far better at 70mph than it is at 7mph, where it thumps through bumps in the road with far less finesse.
The steering doesn't give you the immediate sense of feedback you get in a Nissan Leaf, Volkswagen e-Golf, or even a Hyundai Ioniq Hybrid. As a result, it doesn't give you the same amount of confidence to corner at speed, and the artificial feeling of the brakes means they're hard to modulate, making smooth braking harder.
It's far better to adopt a relaxed style of driving, letting the regenerative braking take the place of the brake pedal in many circumstances.