Tesla Model Y: specs, pictures and on-sale date
Deliveries of the Tesla Model Y SUV are underway in the US, with European cars due at some point in 2021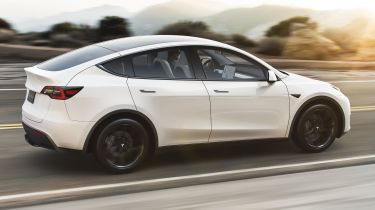 According to reports online, the first Tesla Model Y was delivered on Friday, 13 March 2020 to a customer on the west coast of the United States. UK deliveries had been expected by the end of 2020, but with European cars due to be produced at Tesla's still-under-construction 'Gigafactory' in Germany, it now looks like a mid-2021 date is more likely.
The Model Y was officially revealed in March 2019, with the SUV set to join the Tesla Model 3, Tesla Model S and Tesla Model X in the US company's model line-up. The mid-size Model Y is built on the same platform as the Model 3, and shares many of its components with that car.
Tesla is continuing its efforts to move into bigger-selling market sectors with the launch of the Model Y; its second SUV after the Model X. The car will be priced from about $39,000 (around £30,000) in the US and will be offered in Standard Range, Long Range and Performance variants.
The Model Y doesn't get the 'falcon wing' doors synonymous with the Model X, but like Tesla's larger SUV, will carry up to seven people. Tesla says the car's 0-60mph time will be as low as 3.5 seconds and top speed will be 150mph. The Long Range Model Y is estimated to do 314 miles on a charge, while the faster Performance should come just short of the 300-mile mark.
Images of cars being delivered, seen on social media, have also detailed the Model Y's interior for the first time: as expected, the cabin appears to have a very similar design to that of the Model Y's Model 3 sister car, albeit with some slight detail changes.
Information from the Model Y owner's manual also indicates that the car will be 56mm longer, 71mm wider and 183mm taller than the Model 3, with 168mm inches of ground clearance. The wheelbase is also 15mm longer. There's more space in the back than in the Model 3, too: 41mm more headroom and a significant 135mm more legroom. The Model Y is 156kg heavier than the Model 3.
Inside, the Model Y boasts a panoramic glass roof and raised seating to give occupants a good view out. Keyless entry and exit using a smartphone app is standard, while up front there's a 15-inch touchscreen interface to operate most of the car's functions.
The aforementioned app also offers remote unlocking, pre-conditioning of the interior temperature and 'summon mode', where the car will drive itself to you from a parking space. The Model Y is compatible with the Tesla Supercharger network of rapid charging stations, including the latest V3 upgrade, which can add range at a rate equivalent to 1,000 miles per hour of charging.
Top 10 best plug-in hybrid SUVs 2021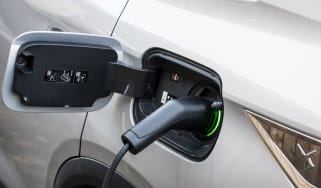 Top 10 best plug-in hybrid SUVs 2021
The finest plug-in hybrid SUVs offer low running costs, enough electric range for daily use and excellent practicality. These are the best plug-in hyb…
Top 10 best plug-in hybrid cars 2021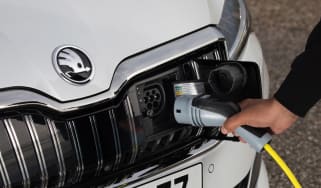 Top 10 best plug-in hybrid cars 2021
Plug-in hybrid cars are great for keeping fuel and company-car tax bills low. Here are the best ones to buy in the UK right now
Top 7 best hybrid and electric sports cars 2021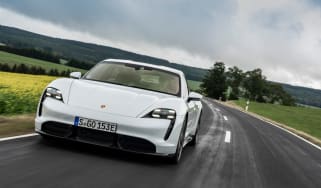 Top 7 best hybrid and electric sports cars 2021
Bringing thrills and performance with their powerful electric motors, these are the best electric and hybrid performance cars to buy in the UK in 2021