Subaru XV hybrid review
The Subaru XV e-Boxer hybrid is good to drive on and off-road, but returns poor fuel economy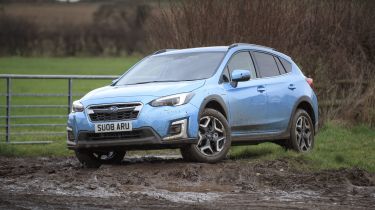 Pros
Capable off-road
Confident handling
Boot space unaffected by batteries
Cons
No plug-in option
Average performance
Poor economy and emissions
| Car type | Fuel economy | CO2 emissions | 0-62mph |
| --- | --- | --- | --- |
| Hybrid | 36mpg | 180g/km | 10.7s |
While many SUVs will spend the majority of time in the city and on smooth roads, the Subaru XV is designed for people who want to venture off the beaten track. Like the larger Outback estate and Forester SUV, it offers genuine off-road ability and superb all-weather credentials.
Rivals include the Nissan Qashqai, Kia Niro, Toyota C-HR and Ford Kuga, and while there are no plug-in or all-electric variants, it comes with a hybrid powertrain. Indeed, following the demise of the petrol model, the XV is available exclusively as an e-Boxer hybrid.
It's called the e-Boxer, because the XV, like all Subarus, uses a type of engine called 'boxer' (because the pistons 'punch' horizontally like a boxer, rather than up and down as in most cars). This type of engine is unusual, but it's Subaru's unique selling point and owners are very loyal despite quite a few drawbacks.
The XV e-Boxer can drive on electric power for a short distance (a mile or so) before the engine comes back on to charge up the small battery. This means the car is quiet and calm in traffic and around town, although unlike many of its rivals that do the same thing, it's not very fuel-efficient.
The official figure comes in at just under 36mpg, which is an immediate turn-off for most buyers – the Toyota C-HR reports just under 60mpg in 1.8-litre form, and there are plenty of other hybrids with similar numbers.
There are a few reasons for this, but the main ones are the boxer engine and the fact that every XV uses Subaru's permanent four-wheel-drive system. The engine works well for keeping the centre of gravity low in the car, which means the XV is one of the best small off-roaders around – and quite fun on-road as well.
Still, Subaru does offer excellent safety features, a comfortable (if not class-leading in practicality) cabin, decent standard equipment and good build quality – characteristics that may come to the fore over a longer period of ownership and that explain why many customers remain loyal to the brand.
The relatively high price and poor fuel economy combine to make the Subaru XV a niche choice in the UK. Many of its rivals are cheaper to run and more practical, but for anyone in the market for a tough and rugged SUV that's great off-road and in bad weather, the XV makes a lot of sense. Even more so when you factor in Subaru's reputation for reliability and the XV's long list of standard equipment. If you're in the market for this kind of car, read the rest of our in-depth review.