Skoda Citigoᵉ iV (2019-2020) range, battery & charging
The electric Skoda Citigoᵉ iV has decent range, but DC fast charging is optional on the entry-level SE and isn't terribly fast even when added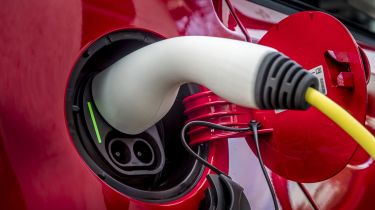 | Range | Battery size | Wallbox charge time | Fast charge time |
| --- | --- | --- | --- |
| 161 miles | 36.8kWh | 5hrs 30mins (0-100%, 7.2kW) | 60mins (10-80%, 40kW)* |
* fast charging optional on SE
Skoda Citigoᵉ iV electric range
Skoda states an official range of between 140 and 170 miles according to WLTP testing, or 161 miles as an average figure, which is very good for a city car, bettering the range on offer from more expensive premium alternatives like the MINI Electric and Honda e. Larger, more 'grown-up' electric cars like the Renault ZOE and Peugeot e-208 do better, though.
We found that real-world range in winter is more like 120 miles if you're doing a few motorway miles before a town commute, but in summer the Skoda seems efficient enough to get very close to its claimed figure.
Charge time
The Skoda will charge up in well under six hours if you plug into a home wallbox, which is how most buyers will charge. However, if you want to use motorway rapid chargers occasionally, you'll either need to add the £720 DC charger to the SE model, or go for SE L trim, which gets it as standard. Even with this CCS socket, the Skoda's maximum charging capacity is 40kW, which is slower than most other DC-compatible electric cars, which will typically do 50kW or more.
Adding 100 miles to the Citigoᵉ iV at a typical CCS charger that's commonly found in UK motorway services will take around an hour, so this isn't the right car for you if you expect to do regular long journeys. Look to the longer-range, faster-charging (but much more expensive) ZOE or e-208 if you want reliable touring ability.
The entry-level Citigoᵉ iV SE misses out on fast charging, but for many a home wallbox and Type 2 AC charging capacity is all they'll need – although it's a shame that you're held to ransom for £170 to get a cable that should really be included. And although it's a £75 option, it's worth adding the variable-height boot floor, as it creates a useful cable storage area.