Skoda Citigoᵉ iV (2019-2020) electric motor, drive & performance
The electric Skoda Citigoᵉ iV is fit for purpose in every way, and quite fun to drive around town, even though the ride quality could be better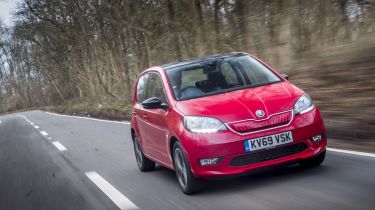 | 0-62mph | Top speed | Driven wheels | Power |
| --- | --- | --- | --- |
| 12.3s | 81mph | Front | 82bhp |
The little Skoda isn't terribly fast and could be more comfortable, but it's still neat and tidy to drive, with enough directness to its steering to make it fun around town. A sprightly-feeling 0-40mph response also makes it more than quick enough on an urban run, even if it does feel a little out of its depth on the motorway. 
Skoda Citigoᵉ iV electric 0-62mph, top speed and acceleration
You might feel a little exposed on a motorway run in the Skoda, given that it does feel strained if you want to overtake on an incline, but accept that you're not the fastest thing on the road and the Skoda still feels stable and confident at a cruise. More to the point, it feels great around town, where a tight turning circle, direct yet light steering and nippy pick-up below 40mph combine to take the stress out of city commuting.
There are four levels of brake regeneration – three of which you toggle through using the gearlever. You access the fourth (and strongest) by snicking the gearlever into 'B' mode, which is strong enough for one-pedal driving in town.
All the modes introduce braking smoothly and make it easy to judge stopping power, and while paddles on the wheel would make it easier to vary the modes, in practice the gearlever works well. Brake-pedal feel could be a touch better, but this is still an easy car to drive through the ebb-and-flow of urban traffic.
Handling
Swing through a fast corner in the Citigoᵉ iV and you'll be handed a lot of understeer, but it stands up brilliantly to about-town stuff, where it steers precisely, winds neatly around multi-storey car parks and generally feels in its element.