Skoda Citigoᵉ iV (2019-2020) interior & comfort
The electric Skoda Citigoᵉ iV is cheap and cheerful inside, but still pleasant and comfortable to spend time in
The Skoda gets chunky seats with manual adjustment, and enough breadth of movement that most drivers will be able to get comfortable quite easily. It's annoying that the steering wheel doesn't have reach adjustment, and tall drivers might find that the wheel obscures the top of the speedometer, but even so, it's a logical dashboard layout and comfortable-enough car.
Infotainment is next-to-non-existent; there's a small colour display to help you control the standard digital radio, but otherwise there's simply a mount on top of the dashboard, complete with USB input, where you can safely secure your smartphone and use it as your nav and media centre.
There's enough room in the back seats for two average-sized adults to get comfortable, although the windows only open a crack with a hinge mechanism rather than rolling fully down.
Skoda Citigoᵉ iV electric dashboard
The Skoda's dashboard feels a bit cheap and scratchy in some areas, but by the standards of budget city cars it still looks and feels rather nice. The buttons are where you expect them to be and do what you expect them to do; the whole thing is just refreshingly straightforward and simple to use.
Equipment, options & accessories
All Citigoᵉ iV models come with climate control, a leather steering wheel and DAB radio, as well as 14-inch steel wheels and flat red paint as the only standard colour. Rear parking sensors and heated seats will be a popular option pack at £400, as will automatic lights and wipers.    The SE L adds the lighter interior and patterned trim insert shown, as well as 16-inch alloy wheels, ambient lighting, body-coloured mirrors and the Comfort Pack with heated seats and parking sensors, as well as the CCS rapid-charging port.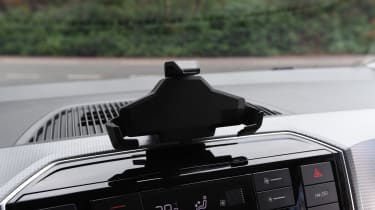 Infotainment, apps & sat nav
There's no touchscreen or navigation system in the Skoda. Instead, you get a removable phone holder mounted on top of the dashboard, so you can easily attach your phone and use its mapping and media functions. There's a USB socket hidden behind the mount, too, so you can charge and play your phone's music through the car's speakers.
The Skoda Connect app can be used to remotely check the car's battery charging status, start or stop charging and even operate the car's air conditioning, provided it's plugged in. This system has full Amazon Alexa integration, meaning the aforementioned actions can be carried out by voice command to your existing Alexa device. Google Home integration will arrive in an update before autumn 2020.