Vauxhall Mokka-e vs Kia e-Niro: range and charging
The e-Niro's exceptional efficiency puts it ahead of the Mokka-e, although both offer 100kW rapid charging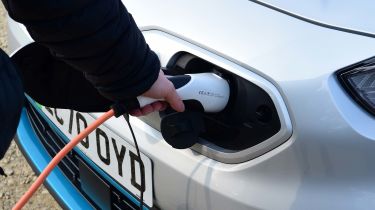 We're now very familiar with the powertrain in the Mokka-e, because it's the same electric motor, battery and platform that underpins the Corsa-e electric hatchback, as well as the Peugeot e-208 and e-2008, Citroen e-C4, and DS 3 Crossback E-TENSE. Like all those models, the Mokka-e features a 50kWh battery located under the floor.
For the Mokka-e, that means a range of 201 miles, which is on par with the figures for its French counterparts. However, as the calculator on Vauxhall's website shows, certain weather conditions and prolonged periods at high speeds can reduce the Mokka-e's actual range to 130 miles.
The Kia, meanwhile, is capable of up to 180 miles on a charge when equipped with the 39kWh battery like our test car. However, if you need more range, the e-Niro is also available with a larger 64kWh unit, which gives the car a maximum range of 282 miles.
But while the Vauxhall has a longer claimed range, we found that the Kia used the energy in its battery more efficiently. The e-Niro achieved an impressive 4.8 miles per kWh when we tested it, which is enough for an estimated range of 187 miles – seven miles more than the official claim.
So while these cars are evenly matched when it comes to range, our figures from driving the Kia demonstrate that the brand's EVs are still some of the most efficient on the market.
Charging
Both the e-Niro and the Mokka-e are capable of DC rapid charging at speeds up to 100kW. For the Mokka-e, that means if you can find a fast enough charging point, you can recharge the 50kWh battery from 10-80% in just over 30 minutes. However, it'll take around 40 minutes to recharge the e-Niro from 10-80% at the same speed.
Most of the time you're likely to be charging at home using a wallbox, probably operating at closer to 7kW. That will take around seven hours to recharge the Vauxhall, while the Kia, with its smaller battery, can be recharged from 0-100% in around six-and-a-half hours.