Vauxhall Mokka-e vs Kia e-Niro: space and practicality
The e-Niro reigns supreme in this category, with more space for passengers and a far larger boot than the Mokka-e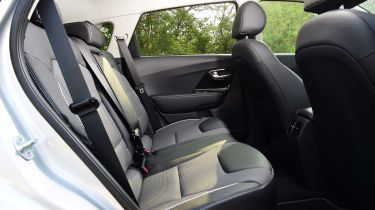 Typically, when a next-generation car model arrives, it has a tendency to grow. But compared to its big-selling predecessor, the latest Mokka has actually shrunk. At 4,151mm long and 1,531mm tall, it's 129mm shorter and 115mm lower than the first-generation car, although at 1,791mm wide (with the door mirrors folded), it's also 16mm wider.
Since it's a physically smaller car than the e-Niro – being 224mm shorter and 29mm lower – it's perhaps unfair to expect the Mokka-e to be as spacious inside, but it's still well suited for small families. Particularly because while rear passengers get plenty of headroom even for adults, kneeroom is tight, with the rear feeling slightly cramped.
If passenger space is important, then the e-Niro is going to be the one to look at closer, as rear legroom is particularly impressive, with plenty of headroom for tall adults as well.
The e-Niro is significantly larger than the Mokka-e, too. While the Vauxhall's 310-litre load bay is far from useless, it's less than what's on offer in its sister car, the Peugeot e-2008, or the e-Niro, which has a 451-litre boot. The e-Niro also features a wide, square boot opening and its retractable boot cover is easier to store out of the way than the Mokka-e's parcel shelf. Plus, while the Mokka-e gets a false floor, the Kia also has a small space under the boot to store the charging cables.
There's less separation when it comes to interior storage. The Kia has a huge central storage bin, cup-holders beneath a sliding cover, a shelf that's perfect for smartphones (USB sockets are positioned below), and another deep tray below the gear selector. Meanwhile, the Mokka-e features good-sized door bins, a couple of cup-holders in the centre console, plus a small cubby between the front seats to keep valuables out of sight.
Finally, like most smaller electric cars, neither the Mokka-e nor the e-Niro is rated for towing a trailer or caravan.