Vauxhall Mokka-e vs Kia e-Niro: performance and handling
While both cars have the same power output, the Mokka-e is better to drive and feels more refined at higher speeds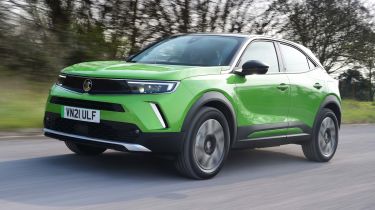 When it comes to the Kia and Vauxhall's powertrains, there's very little separating the two. Both are front-wheel drive and produce 134bhp from their single electric motors, although while the Mokka-e produces 260Nm of torque, the Kia puts out a hefty 395Nm.That extra muscle means the e-Niro is more keen off the line, but after that, the performance trails off less if you're in the Mokka-e.
The Vauxhall is also quicker from 0-62mph – 8.7 versus 9.5 seconds. However, to achieve that, you have to switch to Sport mode, which is the only setting that allows you to access the Mokka-e's full power output, at the expense of predicted range. If you need to extend your range, switching to Eco mode will do the job, but it not only limits throttle response, it also reduces the power on tap. For everyday driving, though, Normal works perfectly fine.
On the road, the Vauxhall is also slightly more fun to drive and feels fractionally more refined than the Kia. While they're equally comfortable to drive, the Mokka-e's tighter turning circle makes it easier to handle around town. Its ride is also less disturbed by small imperfections in the road, and it feels more refined at higher speeds, too.
That's not to say the e-Niro isn't a very easy car to drive. Visibility is far better than in the Vauxhall, which is on top of smooth, light controls and predictable handling. You also get more adjustment of regenerative braking in the Kia, too. The steering-wheel-mounted paddles let you adjust the rate of brake regeneration 'on the fly', with five settings, from '0' to '4'. '0' delivers free-wheeling coasting, while '4' provides deceleration strong enough for one-pedal driving. The Mokka-e, on the other hand, has just two settings; the stronger of the two is accessed by pressing the 'B' button beside the gear selector.